Tips on Applying for Chase Ink Business Cards
This weekend is your last opportunity for the foreseeable future to apply for the Chase Ink Bold and Ink Plus business cards while the sign-up bonus has been temporarily increased to 60,000 Ultimate Rewards points. You'll need to spend $5,000 in the first three months to earn the bonus points, and the first year's annual fee is waived (normally $95 thereafter). I expect that the bonus will drop back to the regular 50,000 points after June 1, and we may not see 60,000 points again until this time next year.
I have an existing Ink Bold card that I opened for the blog when I first started out several years ago. No EIN or formal business structure is required. I simply used my Social Security Number and listed my business as a sole proprietorship. It's been a good card for the 5X bonus on office supply purchases (read: gift cards) and telecom, and 2X bonus on hotel and gas purchases. Ever since Chase closed my Sapphire Preferred card for combining points with my mother's and Megan's accounts, I generally use this card when paying for hotel stays and my Premier Rewards Gold card for airline tickets.
Since I recently reorganized the business as an LLC, I applied for a new card. I could probably have done another Ink Bold, this time using the business's EIN instead of my SSN. But the major difference between the two cards is that the Ink Bold is a charge card and must be paid off all at once. The Ink Plus is a credit card you can pay over time. I don't like to carry a balance, but I do like to have the option.
Business applications are more intimidating, but the most important advice is to be honest. I don't recommend making up a fictitious business; you'll have trouble keeping the story straight. It may be acceptable to open a card for a business you have formed but isn't yet generating revenue. The bank will expect you to justify your business model and expected revenue.
When I applied this morning I also included my personal financial information, which helps them know that they have someone else to go after should the business not be able to cover its bills. I didn't worry about my personal address matching the business address. I also included my expected revenue for the business this year, using the average monthly income thus far. And I got the usual "decision pending" message when I submitted the application.
So I called the reconsideration line and asked, politely, "I just applied and was notified that my application is pending. Is there any information I can provide to help you with your decision?"
The representative put me on hold to review the application and then came back to review my details.
The business is three years old, correct? Yes. I made clear the LLC was formed this year but the business itself is three years old. He asked what I did, and I told him it's a mix of freelance writing, advertising revenue from websites I run, and some consulting gigs on the side. We went year-by-year with the revenue and expenses for 2012, 2013, and my prediction for 2014 — showing growing profitability each year. I explained that I do have a day job and continue to run this business on the side. We talked about what I wanted to use the card for. (Hosting fees and travel expenses.)
And I was approved! Simple as that. The only complication was my credit line. My last Ink Bold card was approved with a $5,000 line, and I had to give up $10,000 in personal credit to get it. This time I was offered $5,000 with no sacrifice, and I was able to transfer some of my credit line from another personal card dollar-for-dollar.
Bottom line: Have answers for these questions. Don't make stuff up. Be honest and explain how you run your business and what you need the card for. I think these are the questions every credit card application should have, but most of it is on the honor system. Heck, this is still on the honor system. But if you have nothing to hide, the agent will probably let you pass. You'll end up just fine even though Chase is taking a closer look when it approves this kind of credit.
Update: A reader emailed me this FT post describing the problems that can arise if you have been doing extensive manufactured spending on your Chase cards in the past. You may not want to get a representative on the line for reconsideration if you're worried about the questions they'll ask. But my post isn't necessarily meant to apply to the situation described on FT. I just meant to point out that many people applying for business cards will need to undergo more scrutiny, and this is one successful way to handle it.
I don't have affiliate links for these cards, but I do have a list of these and other business card offers if you're looking to separate personal and business expenses while earning some extra miles.
Chase Ucard Center Account Activation and Registration
Electronic Benefits Transfer (EBT) is a resort, if not the last, for many people who have been negatively influenced by the slump of the economy. UCard Center is where you can activate your Chase cards, download program training materials, request for replacement cards and access your card account information.
Chase UCard Center Account Activation & Registration Guide
Electric Benefit Transfer is an electronical transaction method for the money. The card of this kind is especially issued for people who are receiving assistance from the government, with which they can purchase and shop all they need instead of paying cash. Money is transferred to them via these cards so they can spend it for whichever purpose the card has been issued to them.
If you have received a card, you may not be able to use it before activation. You can activate or register your Chase UCard online with a few steps:
Visit Chase UCard Center Account Activation page.
At the top left corner of the page, you can select your preferred language from English to Spanish.
Click on 'Activate", then enter your current card number.
Review and accept the Terms and Conditions. You can print it by clicking on the Print Terms & Conditions link.
Provide any additional information requested to confirm your identity.
Select a 4-digit Personal Identification Number (PIN) , which should be easy for you to remember but difficult for others to guess, for your card.
Sign the back of your card, otherwise it may not be accepted.
Visit Chase UCard Center Account Activation page.
At the top left corner of the page, you can select your preferred language from English to Spanish.
Click on "Register", then enter your card number.
Review and accept the Terms and Conditions, you can print it by clicking on the Print Terms & Conditions link.
Enter the required information, and create your User ID and password.
Select three questions that can be used to confirm your identity and the answers to these questions.
Click 'Register' and check the email you have offered previously for a Validation Code sent by the website.
Click Validate Email, then you can log in to UCard Center.
If you already have an account, just enter your User ID and Password an click on 'Logon'. You can manage your card at www.myaccount.chase.com. You must be aware that this link is supposed to serve as a doorway to ucard.chase.com, where the actual activities are carried out.
JPMorgan Chase is an American multinational banking and financial services holding company. Its products include consumer banking, corporate banking, credit cards, finance and insurance, foreign currency exchange, global banking, investment banking, mortgage loans, wealth management, etc.
What Are The Best Prepaid Debit Cards in 2017?
Bad offers and high fees swarm the prepaid debit card market. After reviewing dozens of different products, we arrived at a definitive list of best prepaid debit cards. Like credit cards, the best offer always depends on a consumer's financial circumstances. Some cards offer cash back rewards features, while others will be the cheaper to maintain - the answer of which is better will vary person to person.
The following is a list of our favorite prepaid debit cards, which we handpicked based on a number of factors, including fees, benefits, and value. Each of these products satisfies the needs of a particular consumer niche. To make it easier for people to find the cards that'll suit them the most, we categorized the offerings into three main buckets spanning most financial profiles. If you wish to further evaluate other options, see the section below that outlines our methodology for determining the worth of a prepaid debit card offer.
For High Spenders: American Express Serve® Cash Back
Maximum Number of Fees: 6 | Unavoidable Fees: 1
If you spend at least $595 per month on expenses that can be charged to a card, the American Express Serve® Cash Back will likely offer you the best value. At that spending level, the card's 1% cash back rate completely covers the monthly fee, and begins turning a profit with every swipe. Currently, no other prepaid debit card on the market offers cash back rewards, which makes this offer unique.
In addition to the rewards you get from spending, the American Express Serve® Cash Back also comes equipped with some rudimentary security and transaction features you typically only see on credit cards. The most notable of these is purchase protection. If something you buy using this card is stolen or damaged within 90 days of the original transaction, American Express can refund you the purchase amount, up to $1,000 per incident and $50,000 per calendar year.
Quick Look At The American Express Serve® Cash Back:
1% cash back on all purchases – a benefit not present in any other prepaid card
Purchase protection benefits that give extra insurance on the items you buy
Relatively few fees compared to some other prepaid debit cards
For Low Spenders with Access To A Wal-Mart: Bluebird from American Express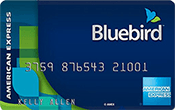 This card is not available through ValuePenguin.
Maximum Number of Fees: 3 | Unavoidable Fees: 0
The Bluebird from American Express has long been heralded as a top prepaid debit card due to having the least fees and being cheap to keep around. Though you can get a Bluebird card online, you will not be able to access some of the free features - including free cash reloads, unless you go to a Walmart. Otherwise, one of the only other fees a consumer may encounter with the Bluebird is a $2.50 cash withdrawal fee whenever using a non-MoneyPass ATM. Most other account features, including Online Bill Pay, and Direct Deposit, are free.
Bluebird cardholders can also use their card outside of the United States at no additional cost. With most other prepaid debit card accounts and even most credit cards, you would need to pay a 2.7% - 3% foreign transaction fee, every time your transaction passes through a non-US bank. If you frequently travel across the border, and would like to have the ability to pay via card while travelling, the Bluebird is the way to go.
Quick Look At The Bluebird:
No monthly fee
No foreign transaction fee
Ability to order/write checks
For Low Spenders: Chase Liquid® Card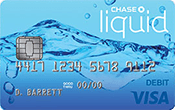 Maximum Number of Fees: 8 | Unavoidable Fees: 0
The Chase Liquid is a great low-fee alternative to the Bluebird, and would be ideal for consumers who may not have easy access to a Wal-Mart store. This is the case for many large cities - such as New York City, San Francisco, Detroit, Seattle, Boston, and Jersey City. Most of the best prepaid debit cards rely on the MoneyPass network of ATMs, of which there are roughly 22,000. The Chase Liquid card operates using Chase ATMs and branches instead. You can compare MoneyPass and Chase ATM locations around where you live, to see whether one would be significantly easier for you to use than the other. While prepaid debit cards work with most ATMs, using a non-affiliated one will cost a fee.
Another advantage the Chase Liquid has over other prepaid debit cards on this list is the fact that it's on the Visa network. While from a pure fee/value perspective the other cards have an edge over the Liquid, they all operate on the American Express network – one that is accepted by fewer merchants. In major cities, this distinction may not be a big one as most merchants will accept most of the big card networks. With Amex, however, you will run into situations where the card may not be accepted from time to time – an inconvenience that is far less likely with the Chase Liquid Visa card.
Quick Look At The Chase Liquid® Card:
Free cash reloads at Chase ATMs and branches
A Visa network card that's accepted by more merchants than American Express
$4.95 Monthly Fee, waived if you have a Chase Checking account
For Cash Deposits: American Express Serve® FREE Reloads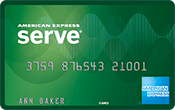 This card is not available through ValuePenguin.
Maximum Number of Fees: 6 | Unavoidable Fees: 1
As its name suggests, the American Express Serve® FREE Reloads doesn't charge any fees when depositing cash into the account. Most other prepaid debit cards will typically charge up to $3.95 per such transaction. For consumers with irregular cash flow, or those who get paid in cash throughout the month, this type of fee can normally represent a significant charge. The card does come with a $4.95 monthly fee, which makes it only the best option for those who do not live close to a Wal-Mart. If you do, the Bluebird card can also be reloaded with cash, at no additional cost.
There may be circumstances where earning a cash back reward may negate the savings you would normally get through the American Express Serve® FREE Reloads. If the ratio of your monthly spending to the number of monthly reloads is just right, you could come out ahead by using the American Express Serve® Cash Back. To decide, you can follow a simple math exercise. Take the number of cash reloads you expect to perform each month and multiply it by $3.95. Then add $1, and divide the whole result by 0.01. If you spend more per month than the final result, get the American Express Serve® Cash Back - otherwise, the American Express Serve® FREE Reloads will give you the best savings.
Quick Look At The American Express Serve® FREE Reloads:
No fee for cash reloads – saves up to $3.95 per transaction
Standard American Express purchase protection benefits
$4.95 monthly fee
Comparing the Best Prepaid Debit Cards At a Glance
We've constructed a side-by-side comparison table to make it easier to see how the above offers differ on cost and features.
Chase Mobile Checkout 1 Frequently Asked Questions
Chase Mobile Checkout allows you to process all major credit cards with your smartphone or tablet, wherever your business takes you in Canada (excluding the province of Quebec). All you need is a supported smartphone or tablet with the Chase Mobile Checkout app, our card reader and a merchant account with Chase Paymentech.
How much does Chase Mobile Checkout cost?
Please review the below chart 2 for Chase Mobile Checkout pricing details:
How do I start using Chase Mobile Checkout?
To begin using Chase Mobile Checkout, follow these three steps:
Sign up for a merchant account with Chase Paymentech by working with your sales representative.
Download the application from your device's app store.
After you receive the card reader from Chase Paymentech, attach it to your smartphone or tablet.
Why should I use Chase Mobile Checkout?
Your customers want payment options when they are ready to pay for your product and services. With Chase Mobile Checkout you can take your business with you and accept credit card payments on a smartphone or tablet anywhere within Canada (excluding Quebec), at any time. Plus, with Chase Mobile Checkout you also have access to 'on-the-go' merchant account data so you know exactly how your business is performing, even when you're not there.
What is included with Chase Mobile Checkout?
Chase Mobile Checkout offers credit card payment transaction processing through your smartphone or tablet. In addition, business owners can now access their merchant account data directly from their supported smartphone or tablet.
What payment methods can I accept with Chase Mobile Checkout?
Merchants with the appropriate agreements in place can use Chase Mobile Checkout to accept all major credit cards including Visa ® , MasterCard ® , American Express ® Discover ® and JCB ® .
Will I be able to process transactions anywhere within and/or outside of Canada?
With Chase Mobile Checkout you can process credit card transactions anywhere in Canada, excluding the province of Quebec. Please note that you are unable to process transactions outside of Canada, including in the United States of America.
Which smartphones and tablets does Chase Mobile Checkout support?
Please review the Chase Mobile Checkout Supported Device List to determine if your smartphone or tablet is compatible with Chase Mobile Checkout.
Is Chase Mobile Checkout secure?
The card reader encrypts the cardholder data upon swipe and the data remains encrypted during transmission to Chase Paymentech.
What if I want to use more than one card reader on my account?
During the setup process, you can specify the number of card readers and accounts you'll need. If your needs change, you can call 1.800.265.5158 to request more card readers. Remember, your first card reader is free and each additional card reader may be purchased for $75.00.
What do I do if my smartphone, tablet or card reader gets lost or stolen?
You should always use a password to protect your smartphone or tablet, especially if you're using it to accept payments or view your processing data. If your smartphone or tablet is lost or stolen, contact your mobile carrier to discuss disabling your phone or cellular account. If your card reader is lost or stolen, contact Chase Paymentech at 1.800.265.5158 to deactivate your credentials, set up new account information and request a replacement card reader.
Do I have to have a network connection to process transactions?
You will need to have access to a cellular or Wi-Fi ® network to process transactions. Additionally, location services must be enabled on your smartphone or tablet to process transactions. Please note that when using Chase Mobile Checkout message and data rates may apply. Such rates include, but are not limited to, those from your communications service provider.
Am I able to open other apps or make calls on my smartphone or tablet while I have the Chase Mobile Checkout app open?
For security purposes, you cannot use some of the other features on your phone (such as making phone calls or opening other apps) while using the Chase Mobile Checkout app. In order to keep your account data safe, Chase Mobile Checkout will close and you will have to log in again if you access these other features while trying to process a transaction.
Can I log in to my Chase Mobile Checkout account from multiple smartphones or tablets? When I am set up, my sales representative requires a phone number. Does the phone number I give during setup mean I have to use only that smartphone/tablet?
A phone number is needed to get the smartphone/tablet configured for a user during setup. Users can log in to Chase Mobile Checkout with multiple smartphones/tablets that have been setup for their Chase Paymentech merchant services account. For tracking purposes, each user should have their own user name, but smartphones/tablets and card readers can be shared by your employees.
As a business owner, you should have one reader for every user.
But users can use multiple smartphones/tablets with a single reader.
Each user must have a unique email address.
You need an active email account and mobile number for each user.
What is the Chase Mobile Checkout Dashboard?
A key feature of Chase Mobile Checkout offers merchants the convenience of 'on-the-go' merchant account reports directly on their smartphone or tablet. However, Chase Mobile Checkout clients that use supported tablets have access to the Chase Mobile Checkout Dashboard which features an enhanced interface with greater interactivity and a larger reporting dashboard and product catalogue. Some of the additional features of Chase Mobile Checkout Dashboard that tablet users will experience include:
Customizable Dashboard - show, hide or rearrange dashboard sections by dragging them around.
Share the Dashboard in an email.
Today's Transactions – provides an overview of each transaction you submitted today, including the time, payment brand and amount. Tap to view the Transaction Summary, where you can search for specific transactions and view their details.
Sales Trends - sales totals for each day, or for an entire a week. Tap to access the Sales Overview report which summarizes and details your sales, and progress toward achieving your sales goals.
Settlement Overview - closed batch figures are provided as a total and displayed in a circular wheel format. Each color on the wheel represents a different payment brand or type.
Funding Overview – details funding events and merchant account fees.
Chargebacks - lists the total chargeback amount currently in process.
Fees - a summary of all fees assessed to your merchant account over the past month.
1 Chase Mobile Checkout requires a merchant account with Chase Paymentech Solutions, the Chase Mobile Checkout card reader, and the Chase Mobile Checkout application on your smartphone or tablet. Chase Mobile Checkout can be used to accept transactions throughout Canada, except in the Province of Quebec. Card reader operates exclusively with Chase Paymentech.
Credit Card Machines for Payment Processing
No matter your industry or business, Chase has the point-of-sale equipment you need to make credit card payment processing a seamless part of your sales and operations. Whether you need credit card terminals that are wireless, mobile or web-based, or accept EMV chip cards or contactless payments, each solution includes a variety of reports and you'll receive access to our web-based merchant account financial management tools. Plus, we offer live interactive training sessions, how-to videos and guides and 24/7 technical support for these products.
Enhance your customers' experience while accepting credit, signature debit and PIN debit with one countertop device. These credit card machines use your existing Internet connection to save time and add value for your business and your customers, with an automatic dial backup failover feature to keep your lines moving.
Ingenico iCT250 Future Proof Terminal
Invest in the future of POS payments with the Ingenico® iCT250. Available in Chase blue, this next-generation device offers an all-in-one credit card processing experience: a single terminal that accepts smart cards (both EMV chip transactions and contactless payments); debit and credit card swipe; and manual entry transactions. Watch our short video about the Future Proof Terminal and learn more.
The Future Proof Terminal also supports two plug-in PIN pads to meet your needs:
The iPP320 PIN pad supports smart card payments (both contactless and EMV chip); the iPP220 is a basic solution for more cost-conscious merchants.
The dual-communication Verifone® VX 520 is a traditional, stand-alone countertop device with flexible acceptance hardware. An integrated contactless reader allows your customers to tap and go, while a chip card reader slot can be used once EMV software is available and customers begin carrying smart cards in the coming years. And, it supports Safetech sm Encryption to help protect cardholder data.
With the VX 520, you can keep accepting the types of payments you do today and be prepared to accept the ones walking through your door tomorrow.
Take a look at the Verifone VX 520 now!
We offer two plug-in PIN pads that are compatible with the VX 520:
Integrated magnetic stripe reader
High-resolution, 3.5" color touch screen
Illuminated, backlit keypad
Supports contactless payments with integrated reader
Fits in the customer's hand
Large, hard rubber keys for ease of use
Connects with most existing terminals or cash registers
Internet, Mobile and Wireless Credit Card Terminals
Internet and mobile credit card processing allows you to take payments where your customers are, whether at their home for a demonstration, at a trade show or on the road. We can help you select the right solution for your business so you never miss a sale.