File a 1040ez Return or Full 1040? See the Difference
Knowing which 1040 to use can sometimes be a little difficult. Fortunately, our online tax preparation software takes on the decision-making process, determining exactly what needs to be filed in each situation. In most cases, a filer's return will use either a 1040EZ, 1040A, or the 1040 tax form. While we make this determination automatically, we know that some visitors may be interested in knowing more about what each of these cover. Below we have provided a basic outline of each as well as some the specifications for using them:
This is the most basic of all of the end of year tax return forms. Individuals who are filing either single or married filing jointly can use this. To use this, a bankruptcy could not have been filed for after October 15th; the total household income must be under $100,000. No deductions or special circumstances, such as children, student loan interest deductions, mortgage, can be claimed. In fact, it does not allow any deductions to be itemized; as a result, the standard deduction must be taken. However, the Earned Income Credit (EIC) can be claimed using this.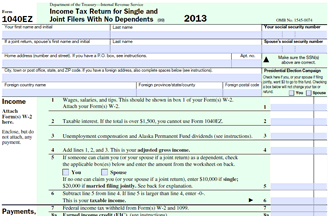 Download a 1040ez Form for Tax Year:
The 1040A is often referred to as the "Short Form." It allows for many of the special circumstances that the 1040EZ does not accommodate, including: student loan interest, classroom expenses, college tuition, IRA contributions and more. This form is for anyone regardless of filing status; those who are married but filing separately are also eligible. As with the EZ, expenses cannot be itemized, the standard deduction must be taken. However, extra deductions can be claimed such as: child tax credit, Hope and Lifetime Learning educational credit, credit for the disabled or elderly, or child/dependent care expenses. The EIC can also be claimed with this form.
Under $100,000 must be made from: wages, Social Security benefits, pensions, interest or annuities, unemployment, taxable grants, or Railroad Retirement benefits. There are other provisions such as incentive stock options that must not be taken during the year in order to qualify. The benefit to this 1040 form is that it is shorter than the traditional 1040 and often takes less time to complete and averages less time for the IRS to process.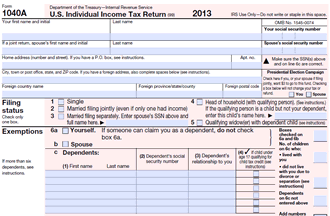 Download a 1040a "Short" Form for Tax Year:
If you want to correct an error or oversight that you made when you filed a tax return using Form 1040, Form 1040EZ, Form 1040A, Form 1040NR or Form 1040NR-EZ, use a Form 1040X to amend your return. There are several reasons for amending a tax return. You might need to change your filing status from single to married or alter the number of dependents that you claimed. Discovering an additional Form W-2 or Form 1099 may make it necessary for you to report additional income or withholding. Making changes to the tax deductions, personal exemptions or tax credits that you claimed would also require you to file an amended return.
If you decided to amend your tax return with a Form 1040X, remember that this 1040 form can only be filed after your initial tax return has been processed. A paper copy must be filed; online filing is not available for this form. This is a generic form, so be sure to write the tax year that you are correcting at the top of the form. If you need to fix your returns for multiple years, you will need to file a separate Form 1040X for each year that you are correcting.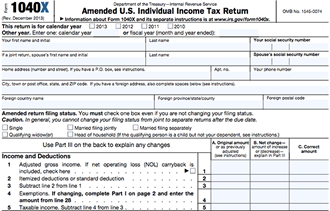 Download an Amended 1040 Form for Tax Year:
Commonly referred to as the "Long Form", this is the most complex of the three but allows for the most deductions and special circumstances. Anyone who does not qualify for either the EZ or the A must use this. It includes all filing statuses. It also includes all types of wages and income. Those who are self-employed, in partnerships, shareholders in S corporations or households with income over $100,000 must use this. Those who are currently employed but did not have either Medicare or Social Security taxes withheld must file this as well.
Besides all the deductions and credits listed above, there are additional deductions such as mortgage interest, foreign taxes paid, allowing for claims of losses in federally declared natural disasters and more. If an adoption was done during the year, this 1040 form must be used to file the credit. If you want to itemize your deductions, or have received less common forms such as a K-1, 1042, 1120 or 1041, this is the form that must be used. In general, this is what is used when the filer no longer qualifies for either the EZ or A.
A note regarding printed forms - It is possible for tax law changes to occur after the US Treasury produces its annual 1040 forms. In this instance, if you do not plan to use an electronic tax software program such as ours, you'll need to wait until the Treasury issues replacement forms. For example, in 2013 the IRS altered the 1040 form based on changes enacted by Congress the previous year, in the American Taxpayer Relief Act (ATRA). This was not available until January 30th of that year.
Besides determining which 1040ez to use, there are also a number of attachments (known as schedules) which, depending upon your situation, may be necessary to include with your return.
A taxpayer may need to complete one or more schedules to calculate and report various taxable items. The total computed on all schedules is then transferred to and filed with the Form 1040. When using our online tax software, if we determine that these are necessary for your filing our software will include them with your tax return at no additional cost to you.
1040X: What are proper attachments?
Discussion in 'Tax' started by Chris, Apr 6, 2005 .
Want to reply to this thread or ask your own question?
question on form 3903 attachments.
Can you send invoice via email but as attachments not as the body of the email?
Quickbooks 2005 PRO, Invoice, Attachments
Attachments useability items - flaws??
Federal Tax Form 709 Technical Question
We are a forum for professional accountants and tax advisers to discuss accountancy and taxation, but we also welcome individuals and business users who have queries relating to these matters. More About Us.
what to file with 1040x
$70 interest from my local small credit union savings/checking account.
$50) so it ended up in Sched A instead of an actual tax credit which did me no good.
$50 State) were deducted from my checking account on the dates I specified. I received no mail, email, or phone queries from the IRS (I was sort of surprised on this since a 1099 was involved).
1. My 2016 returns are ready for electronic filing and I have small refunds due both Federal and State. Should I E-file my returns now or wait until the 1040X is mailed in, processed, and posted (6 weeks or so)?
But, I would do nothing. wait until you get a letter and see if the amount they say you owe is within the ballpark of what you want to pay. if so, then pay it.
However, if you want to file the 1040X, what we used to do (when I did taxes a lifetime ago) was redo the whole tax return. then only pulled out the pages that had changes on them. at the top we would write 'Original' or 'Amended'. this would match the 1040X page.
I would not wait to file the current year return. it has nothing to do with the current return since you are not talking about any carryover stuff.
$500 more. I completed 1040X and included an explanation with the missing QD amount (which the IRS could verify from 1099 forms) and reclaimed his original refund of $55 which he was applying to his 2016 taxes (so he wasn't waiting for a refund check). It took the IRS a month or 2 but they agreed with me and all is well. One minor annoyance while this was going on was the IRS kept sending my friend threatening letters asking for taxes and penalties due. I had to call the IRA and ask them to call off the dogs, which they did. (I was a third-party designee which enabled me the permission to speak with them on my friend's behalf.)
The time before that had some problems. My ladyfriend was completing her tax forms at the time and posted a wrong number which, even though subsequent numbers were correct, the IRA used for the rest of the return and reduced her refund by $500. Not knowing about 1040X at the time, it took awhile until we figured out we should file that form. Then, the IRS lost that form. We had to get our local member of congress involved (I have met her several times over the years and was familiar with her staff) and even her staffer lost what my LF sent her. But a month or so later (3 or 4 months in all) it all got straightened out. It was my experience with 1040X which pointed me to going there first when last year's incident occurred.
I also made a mistake on my friend's state return a few years ago. Actually, I had made 2 but the state caught one. I had to file an amended return using the state's amended figures so he could get about $180 back.
Get irs form 1040x instructions 2016-2017

Instructions and Help about 1040x form instructions
Who Needs Form 1040X Instructions?
The Internal Revenue Service prepared Instructions for Form 1040X to help taxpayers figure out how to properly make amendments to an already submitted Form 1040,1040A or 1040EZ.
What Kind of Information does the Instruction Provide?
The IRS Instructions cover all the basic details and provisions that the filer must pay due attention to and follow in order to avoid paying fines and high interest: the applicable cases of form 1040x, the due dates for submission, description of the possible fine and a line-by-line guide of how to complete the amended return.
When are the Form 1040X Instructions Due?
The Internal Revenue Service typically issues a revised instruction for every tax form that must be filed on an annual basis. The latest updated Form 1040X Instruction is dated January, 2016.
Do I Need to File the Instruction?
No, there is no need to write anything on the instruction and to file it, as it is supposed to be used only for reference.