How do credit card limits work?
Once you have applied for a credit card, your provider will tell you its credit limit.
Your credit limit is the maximum amount you are allowed to owe on your card at any given time.
For example, if your credit limit is Ј1,500 and you have an outstanding balance of Ј1,000 on your card, you will only be allowed to spend up to a further Ј500 until you reach your limit.
If you go over your limit you will usually be charged a fee and may not be able to spend again until you pay off part of your balance.
Most providers will still let a transaction go through, even if it means you will exceed your credit limit.
For example, if your credit limit is Ј1,500, you already owed Ј1,450 and you then spent Ј60, you would then have a balance of Ј1,510, which would be Ј10 over your credit limit.
What credit limit will you get?
You will only find out the credit limit a card will give you after you have applied.
Your provider will let you know the amount when they confirm your application has been accepted.
Providers state an "assumed credit limit" when they advertise their cards. There is no guarantee that they will offer you this amount - it is just used to help illustrate how much the card could cost.
How is your credit limit worked out?
Providers decide on how much to lend to you by assessing your application form and credit history. They will look at:
How much you earn and how much of this you have available to spend each month after your bills are paid
Any outstanding debts you have, like a mortgage, overdraft, loan or other credit cards. They will consider what percentage of your income these debts take up.
If you have never borrowed before, the provider will not know how well you can manage credit.
If you have borrowed before, they will look at your repayment history to see if you have a clean record or any missed payments.
If you have been their customer before, they will look at how you used your previous accounts.
What other credit is available to you, such as an unused overdraft or a credit limit on another card.
Your credit limit could be lower than expected if the lender sees you as a risk or unprofitable for them, if you have never taken out credit before or simply because providers are more cautious.
How to find your current card's credit limit
You can check the credit limit on your card by:
Signing into your account online or through its mobile app
Asking your card provider over the phone, email or post
Looking at any recent paperwork you have received
What happens if you go over your credit limit?
If you spend more than your credit limit, you will be charged a fee that will appear on your next credit card statement. This charge is usually Ј12.
Your provider could also choose to lower your credit limit and increase your interest rate, even if you have a low promotional APR such as a 0% deal on purchases or balance transfers.
It will also leave a black mark on your credit history, which could put off lenders when you apply for credit in the future or even cause your interest rate to go up on other cards you hold.
If you frequently go over your limit, your provider could even choose to close your account, and you will need to repay the debt within a short period of time.
What should you do if you go over your limit?
Contact your provider, offer to make a payment to bring your balance below the limit, then ask if they will waive the fee or agree not to report it on your credit record.
Your provider may even agree to increase your credit limit if you have held the card for several months and kept up with repayments.
Most providers allow a transaction to go through that will take you over your credit limit but then decline any further purchases unless you contact them and they agree to extend your credit limit.
How to avoid going over your credit limit
It is your responsibility not to exceed your limit, so make sure you know the limit for each of your cards. You can then keep an eye on your balance by checking it online, through an app, checking at a cash machine or asking your provider.
Most providers also let you set up an email or text message alert that will let you know when you are close to your credit limit.
How to increase your credit limit
You can ask your provider to increase your credit limit. Many providers will only review your limit after you have held the card for three to six months. You can do this:
Through your online account or mobile app
Your card provider will decide based on your credit history, income, other borrowing, other available credit and your repayment history with their card.
You can help the chances of your provider agreeing if you improve your credit history; this guide explains how.
However, having a higher credit limit means you will have to be careful to avoid spending beyond your means.
Some providers offer "no limit" credit cards to customers with a high income and spotless credit history.
How to lower your credit limit
You can ask to decrease your credit limit if you want to remove the temptation of overspending. It can also help if you want to apply for credit with another provider and think the level of credit you currently have available is too high.
Decide on the new credit limit you would like, but make sure it will be enough to cover your spending on the card. You can then contact your provider to ask them to reduce your limit to this amount.
Can your provider change your limit?
Yes, your card issuer can change your credit limit without asking you.
They could decrease your limit if:
You exceed your credit limit
You miss a minimum repayment
Your credit history has been negatively affected by your handling of other cards or loans
You have used the card irregularly
Your provider could also increase your limit if they feel you would be able to handle the repayments or if you are often close to going over your limit.
Credit limits on balance transfers
If you take out a credit card to make a balance transfer, the maximum amount you can move over to your new card is set by the credit limit you are given.
If you were given a credit limit of Ј3,000 and your new card issuer let you use up to 90% of it towards a balance transfer, you could make a balance transfer of up to Ј2,700.
Even if you wanted to transfer an existing balance of Ј3,500 but the new card would only accept up to Ј2,700, you could move most of the balance across and potentially save hundreds in interest.
You could then leave the remaining Ј800 on your old card and repay it there.
Written by Dan, Financial Content Writer
Updated on 27th October 2016
Compare credit cards
Find the best credit card for you, whether you're looking for a 0% card for balance transfers or purchases or day to day spending and rewards.
Best credit cards for instantaneous high limits and limit maximization strategies.
2k every 3 months on my cards with only $100-1000 per month charged on it(forward card just Amazon purchases). US Bank also has given me $1500 every 6 months via automated system. Both were my highest limits upon approval.
when was this? recently or months/years ago?
When did Orchard Bank become known for high CLs? When my wife applied, they gave her all of a $2K limit - this is the same woman who got $15K from Discover and $20K from BoA, so Orchard seemed very far out of line.
When did Orchard Bank become known for high CLs? When my wife applied, they gave her all of a $2K limit - this is the same woman who got $15K from Discover and $20K from BoA, so Orchard seemed very far out of line.
Thats like the paleolithic era of credit.
Well, I can tell you that about 10-11 months ago I got my 3rd 50K 0% BT no-fee card with National City, although their BT offers are only 6 months not 12. I had to close an earlier NatCity card to get it. However - it looks like they won't let me do that again nowadays.
Credit Limits on Top 12 HDFC Bank Credit Cards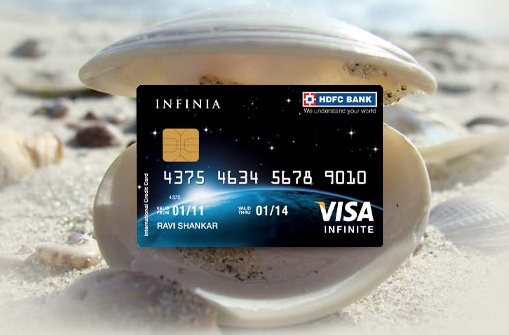 Just applied for HDFC credit card and wondering what Credit limit you're likely to get? see below for the list of popular HDFC credit cards with expected limits as on 2016.
Beginner & Premium HDFC Credit Card Limits:
HDFC Moneyback Credit Card Limit: Rs.25,000 – Rs.1,50,000
HDFC Allmiles Credit Card Limit: Rs.1,00,000 – Rs.2,50,000
JetPrivilege HDFC Bank World Credit Card Limit: Rs.2 Lakhs – Rs.5 Lakhs
HDFC Regalia Credit Card Limit: Rs.2 Lakhs – Rs.5 Lakhs
HDFC Diners Club Rewardz Credit Card Limit: Rs.25,000 – Rs.1,50,000
HDFC Diners Club Premium Credit Card Limit: Rs.1.5 Lakhs – Rs.5 Lakhs
HDFC Business Platinum Credit Card Limit: 25,000 – 1,50,000
HDFC Business Moneyback Credit Card Limit: 25,000 – 1,50,000
HDFC Business Regalia Credit Card Limit: Rs.2 Lakhs – Rs.5 Lakhs
HDFC Infinia Credit Card Limit: Rs.10 Lakhs & Above
HDFC Diners Club Black Credit Card Limit: Rs.10 Lakhs & Above
JetPrivilege HDFC Diners Club Credit Card Limit: Rs.7 Lakhs & Above
Increasing your HDFC Credit Card Limit:
While these are expected lower/upper limits on the mentioned cards, you can expect even higher credit limits on beginner cards based on these 5 Factors Influencing Your Credit Card Limit almost with any bank. Usually when you reach the upper limit of the cards mentioned above, you will get a free offer to upgrade your card to the next better card.
Upgrade offers with HDFC shows up every 3-6 months once and it depends on each customer profile. Sometimes you'll also get credit limit enhancement on your card along with upgrade, provided your usage and payment pattern is good. Need better Credit Limit? here are 7 proven steps to increase Your Credit Card Limit easily. Got queries? Drop your comments below.
I'm a Credit Card freak minting reward points and cashback for years. Obsessed with aviation, airport lounges and luxury travel at affordable cost.
76 thoughts on " Credit Limits on Top 12 HDFC Bank Credit Cards "
Today only I applied for upgradation to Regalia through my RM and just now I received an Email confirmation that my Card can be upgraded To DINERS Rewards..
Now the question Is How can I be eligible for Regalia but Not Diners Premium..
2ndly If I have to choose b/w Rewards and Regalia which way should I go..
Pls advice, thanks in advance
RM generally doesnt know much. Ask bank directly over email.
If you're eligible for regalia, Diners premium is easy to get.
Rewards or Regalia: answer is, if you want 10x rewards, go for Rewardz, else Regalia.
Yes I also had good experience about HDFC card services. One of the topmost bank is HDFC. From. 20000 limit now I have highest limit 7.50lakhs. every month I m getting some offers like Insta loan jumbo loan at lower rate interests
Thanks HDFC program manager thinking such good thinks about customer.
I am having hdfc money back credit card with limit of rs 30000. I want to enhance my credit card limit. Please guide me
Send your latest salary slip and request for a limit enhancement.
My currently sallary is 32000 in this basis what would be my credit card limit .
About 1 Lakh. However, it depends on lots of factors.
Yes you can try icici bank SBI or HDFC bank
My salary is11000 how much my credit card limit will be
Credit card itself is not issued for less than 20k salary range in most banks.
my salary is 25k pm .i want a credit card of above 1 lakh limit.
How can i apply for that n which one.
Tough to get 1 L limit with 25k Salary for first time.
You will generally get 2X to 3X of your monthly income.
hi, my salary is 39k. money back credit card offered me with life time free.but now i called customer care to confirm this now they are telling 575 rs per annum. Now what is the procedure to cancel this? why they give wrong information when offering a card.?
Not to worry. There is a spend based waiver. Try to reach that.
Now I got Hdfc credit card of 50,000 limit, now in future I want to increase the limit, so what are the points to take care. Thanks
i want to apply a credit card and my total salary is 30k but i get in hand after pf+pt deduction around 27,160rs. please suggest me a very good card where i can use for fuel, shopping and other things with cashback also. i want a card with min limit 50000 and max limit 1lac or below 1lac. please suggest me because i want to apply asap.
The credit limit of my HDFC Moneyback Credit Card is 3 lac. Can this be enhanced further? What is the higher limit?
Certainly, based on the income.
My currently sallary is 20000 in this basis what would be my credit card limit in HDFC Bank?
Please respond any one.
2X to 3X initially. You can expect around Rs.50,000
I have regalia credit card of limit 416000.i want to upgrad it to infinia .but my itr is too low about 4lakh .am i elligible for infinia.plz tell m
4L income is too low for Infinia.
Hello sir my credit carfd limit is 65000 how to incress limit online
The bank is not very rigid about these limits. While receiving a higher limit than the max mentioned here is possible, it's even more possible to get a lower limit. My card path with HDFC is Platinum Plus EMV => Diners Rewardz => Diners Black. With Platinum Plus EMV I initially had 84K which was doubled in a year considering my spends. Then when the card expired I got it upgraded to Diners Rewards (based on my request) and the limit was enhanced to 2L. I used this card for 3 years till it expired. In the course of this time the credit limit was enhanced to 2.6. Close to the expiry of the card I requested for upgrade to Diners Black. I was instead given option to upgrade to Regalia as the min limit for upgrading to Diners Black was 3L in your current card. But since my limit upgrade was due I chose it and had the limit enhanced to 3.6L and then got the card upgraded to Diners Black with a limit of 4L. But I had to give bank statements and current salary proofs again as this was quite an upgrade. I've been a HDFC credit card customer for more than 6 years now. My next target is Infinia but for me Infinia is more of a prestige card because no card has been as beneficial as the Diners Black for me at least.
Vikram how much was your salary everytime when you asked for upgrade and what was your mode of upgrade ( RM, Customer Care or form to Chennai ).
I have been issued Diners Rewards with Limit of Red. 150000/-, whereas my annual income is above Rs. 8 lace. Can I apply for upgradation and if so to which card of HDFC. Please suggest?.
You can upgrade to Diners premium or Regalia after 6 months. Depends on your needs.
hey siddharth , i got a credit card from hdfc and my salary is only around 11,500,the bank is giving credit cards for only the employees where i m employed at less then 20k salary.In that case what would be my limit? and why they issue credit cards when the limit amount is close to the salary? as if i want to buy some item worth 20k or 15k,i would rather wait for a month or two to save that amount,is there any perks of using credit cards ?what are the interest rate on using the cards for payments apart from the annual fee they charge?
interest varies a lot based on offers and card. Initial credit limit is usually 1x to 2x of your monthly salary.
Hi I have Platinum plus Hdfc credit card of limit rs 95000 and I want to upgrade it to regalia and increase limit to 4 lakh.My ITR is about 10 lac. what should I do.i called Hdfc customer care and they said they don't have any offer for upgrading.and limit is usually 80% used of my credit card. what should I do.please guide.
You can ask for limit enhancement every 6 months. Tough to get 4L limit straight away.
Hi Siddharth, My current salary is 23.7Lakhs and is using Regalia card from last 6-8 months (credit Limit 3 Lakhs).
Can you please advise if i can go for Diners black card directly or should i increase the credit limit first and then go for the diners black ? Also how much are my chances of getting a Diners card ?
Thanks in Advance.
You've got 99% chance.
Apply for Upgrade + Limit Enhancement and you'll certainly get the card
Thanks a lot Siddharth for the reply I will go for upgrade + Limit Enhancement as per your suggestion.
Sorry for bugging you again – If i will go for Diners black CC upgrade …do i need to pay every year the annual fee ? and what is best procedure to upgrade – through calling customer care or going to bank branch or through email(if any ) ?
Thanks in advance
branch is better for premium card upgrades. Fee depends on your card usage etc. You can get waiver too on 5L/yr spend.
Thanks again for your quick response
Today i got my Diners black CC. Thanks a lot for helping me out for earlier queries
I just have one small doubt – The add on card for my parents also will have the same rewards criterion the one that primary holder is having ? i believe answer is Yes…just wanted to confirm with you once.
Thanks as always
My Gross Salary is 25200/- PM i.e 3 Lacs PA, after deduction i receive 20500/- in hand,
Please suggest me good credit card for shopping and also can you let me be know the credit limit which i can get on the basis of this salary, Im applying for credit card for the first time at HDFC (Mumbai)
Hey Siddharth. First of all tks to u for suggesting me earlier also.
I have annual salary of Rs. 8 lac plus. Which card would be good for me in terms of annual fee or without fee and spending is Rs. 1.5 lacs plus.
Regalia will be an allrounder card for you.
I want indusind bank credit card….but problem is that . What is the salary criteria for it. Which card is better from indusind,hdfc,icici,citi.banks
thanks, your website has useful information. Definitely more useful than my RM.
Lol, thanks for the kind words.
My dad's offical net salary after deductions is about 11000 under central government. Also we got a lot more income from other sources. Past/civil record is clean. Not a single defaulter in any case! I want a credit card of limit 30,000-40,000 on basis of salary. Is it possible?
Other sources reflects on ITR?
If so, you may get similar limit.
No it isnt shown in the ITR. Is it not possible to get credit card for this much amount of salary,I.e,11,146. .
I am mohit sharma..I am currently taking 30 k per month salary . Currently holding regalia First Card . but my credit limit is under 1.5 k as per the supporting documents for the credit limit enhancement i had applied for it but it doesn't support not more to increase the limit of my card as per my expectation its only increas 20 k in my current limit.is there any other way to increase the limit of card..Thanks
Hello sir , I have fixed deposit of 25000 .how can I get a credit card and how much in sbi
Check out the nearby branch.
hello siddharth , i am getting my basic salary in net is 12,402. for which credit cards i am elgibile and for which bank
You need 18k/m salary to get approved for credit cards.
I AM USING HDFC MONEYBACK CREDIT CARD
I AM HAVING A LIMIT OF RS 75,000
HOW CAN I UPGRADE TO A BETTER CARD.
I AM NOT GETTING ANY BENEFITS WITH THIS CARD.
I AM SELF EMPLOYED AND NOT ITR
as my salary was 30k per month..i need credit card..what is maximum limit for my salary..how to apply?give contact num
I have the HDFC Regalia CC with a recent credit limit upgraded to 4.87 lakhs
I also got the SBI Elite CC but with a low credit limit of only 1.83 lakhs (This card is just a month old)
Do you think I should drop out the ELITE CC after 1 year (Since Regalia is life time free, better perks, facilities, rewards)
I was expecting at least 5 lakh credit limit on the SBI ELITE but was disappointed
Purpose of credit card
1. Family care expenses
2. Utility bill payments
3. Flight bookings (Atleast once in 3 months)
4. Luxury brand or online shopping (Once a month)
5. Dinning/outing (Once a week)
Based on these lifestyle factors, do you think I should just stick to the Regalia card and drop out the SBI Elite (It is just like a status symbol and adds no value for me)
SBI Elite is good if you spend around 8L a yr or even 10L to get waiver. Else its of no big use.
I AM USING HDFC jetprivelege titanium CREDIT CARD
I AM HAVING A LIMIT OF RS 81000
HOW CAN I UPGRADE TO A BETTER CARD.
I AM NOT GETTING ANY BENEFITS WITH THIS CARD.
I AM SELF EMPLOYED AND having an itr of 468000, but till now not a single benefit gained from hdfc credit card deptt, how can i upgrade to better card with easy emi & jumbo loan and insta loan facility
Hi how can I upgrade my money back cc to diners rewards card?My salary is the very same but have a good spending record with my money back card.Please guide?
Hi my current salary is 60000 and my card limit is 30000 which ia from the last 9 months ..How would I get limit increase..I have recently upgrade my card from money back to regalia first..
Hi Siddharth. My salary is 2 lakh.. I do not need a credit card.. sparingly use my dad's.. now thinking of getting one for myself.. which one should I get.. looking for money back or air miles
Limit is per month . Or year. . I have 25000 limit. When I use emi. supposed I purchased 25000 in emi . Next month how much limit I have . Please tell me sir
Hello sir, Myself Vikas, my net salary is 15800 and I have HDFC Snapdeal credit card with limit of 32000. Can I upgrade the card or apply for the another bank credit card?
I have HDFC money back card with limit of 182000, and hdfc offering me now hdfc regalia card for life time free, shall i accept the offer ?Actually I m not getting any loan from money back card how I can eligible for loan if i upgrade my card ?
Yes you should upgrade to regalia. Its a better card. Use the card and u will eventually be eligible for a loan.
I have a credit card its limit is 40000. But sir I haven't no salary slip no I.T.R because I m a farmer how can I upgrade my limit. Plz give me solution.
My annual salary is 90,000 and have HDFC credit card with limit 3.5 lakh. I am scared fraud transaction/fishing so should I request bank to reduce the limit or it is fine to let it as is. Will there be any relation between credit limit and loan limit while applying house loan or so?
i am a self employed business person with an annual income of 335000.i have a current account with hdfc Bangalore.
am i eligible for credit card.i am first timer. pls update me
unfortunately my credit card application is in process since 3 months.no body from hdfc is giving proper information to me.
Before 4 months back my cibil score is 690 at that time i try for 3 r4 credit cards but it rejected ,now my cibil score is 775 than also i am not getting any pre approved credit cards and my salary is 32000
How many days will take my cibil score to show in bank records to give me pre approved offers
And i have 7 more enquirers about credit cards so i am waiting for pre approved cards
Sir my sallary is 20000 how much credit card limit will be given for me and recovery time and interest rate how much
mine is a business regalia first credit card i want to know the limit of card can u inform
Sir, I have a regalia first credit card with a limit of 200000. I have a query which might seem silly. If someone pays their dues way before the last due date isn't the available credit limit reset in the next billing cycle back to the original amount minus the pending charges
Which type of Credit Card is best for 20 k Salary Holders.
Mt salary is 70000 per month. I have been using HDFC Regalia first card for the past 8 months. My monthly spends are decent with 30k to 40 k spends every month. I have requestes for an upgrade but havent got a response yet. I dont find much difference between Regalia first and Regaila. Is there any possibility i can get approved for Infinia.
How Do I Get A Higher Limit on My Credit Card?
When it comes to using credit cards, there are lots of factors to keep track of – your interest rate, your total balance, your due date. It's no wonder that a lot of people have a hard time keeping on top of it all!
One aspect of managing your plastic that you may not have given much thought to is your credit limit. This is the maximum amount the credit card company will allow you to borrow, and most people with good credit will see it increase over time.
But what if you want to get a higher limit before your credit card company offers it to you? Is it even a good idea to pursue a higher credit limit? If you're not sure of the answers to these questions, take a look at the information below for more details.
Getting more credit has its benefits
For most people, periodic increases to the credit limits on their cards is a good thing. The reason for this is that a higher credit limit will improve your credit utilization, which is a percentage representing the total amount of credit you're using compared to the credit that's available to you. For example, if you have a credit card with a $10,000 limit and you're carrying $2,000 on the card, your credit utilization is 20%.
In general, it's best to keep your credit utilization below 30%. If you exceed that threshold, your credit score will suffer. This is where your credit limit comes in: if you're carrying a balance on your card that's causing your credit utilization to be too high, raising your credit limit is one way to improve it. In other words, by raising your credit limit, you could be helping your credit score.
How to increase your credit line
In some cases, getting a higher credit limit requires no real action on the part of the cardholder. If your credit score is in good shape, your credit card company will raise your credit limit from time to time without you having to ask.
Be sure to bring up how you've been a sterling customer: on-time payments, low debt utilization ratio, and so on.
But if you've had your credit card for at least six months and haven't seen an increase in your credit limit, it might be time to request one. The process to do so is simple: you can either call a customer service representative and ask for your credit limit to be increased, or you can apply online. Be sure to bring up how you've been a sterling customer: on-time payments, low debt utilization ratio, and so on.
If your request for an increased credit limit isn't honored, it's important that you find out why. If you're not already on the phone with your credit card company, place the call to investigate. If your credit card company cites your credit as a reason that they can't increase your limit, it's probably a good idea to pull your credit report and look it over. If you see an error, get it corrected as soon as you can.
Find out why. It could be a sign of trouble.
It's important to note that your credit card company doesn't have to grant your request for an increase, but if you feel you've been unfairly denied, provide a few compelling reasons that you think your credit limit should be raised. For example, if you've recently gotten a raise at work or have a long history as a good customer with your credit card company, point this out. If they still won't up your limit, it might be time to shop around for a new card.
While raising your credit limit is usually beneficial to your credit score, be sure that if you do receive an increase you use it responsibly. To do so, follow the tips below:
Don't look at more credit as free money – if you charge up the card to its new limit, you'll be erasing the benefits of raising your limit in the first place
Keep a close watch on your spending so that you don't charge more than you can pay off in one month
Be sure you're making on-time payments – if you don't, your credit card company could reduce your credit limit, and you'll be right back to where you started
The takeaway : getting a higher credit limit will probably improve your credit score, so if you haven't been given one automatically, get in touch with your credit card company and ask. If you get the increase, use it responsibly. If you don't, be sure to find out why. Either way, be sure to be mindful of your credit limit in the future.
See if your credit is in good shape
Learn the benefits and drawbacks of a higher credit line
Understand how issuers set credit limits
I apply for this many new cards:
NerdWallet's Best Cash Back Credit Cards
Play the Game & Get 5% Cash Back
Cash Back vs. Travel: Which Is Best for You?
Answer 8 questions.
Disclaimer: NerdWallet strives to keep its information accurate and up to date. This information may be different than what you see when you visit a financial institution, service provider or specific product's site. All financial products, shopping products and services are presented without warranty. When evaluating offers, please review the financial institution's Terms and Conditions. Pre-qualified offers are not binding. If you find discrepancies with your credit score or information from your credit report, please contact TransUnion® directly.
Advertiser Disclosure: So how do we make money? We receive compensation from our partners when someone applies or gets approved for a financial product through our site. But, the results of our tools (like our credit card comparison tool) and editorial reviews are based on quantitative and qualitative assessments of product features — nothing else. Compensation may influence the products we review and write about, the order in which categories appear in "best of" articles, whether products appear on our site and where they're placed. While we try to feature as many product offers on our site as we can maintain (1,200+ credit cards and financial products!), we recognize that our site does not feature every company or financial product available on the market.
CIBIL Score and Credit Card Limit
Credit Card Limit is basically "Spending Limit" allowed on your credit card. Credit Card is riskiest business for any bank. The default rate is very high on credit cards as it is totally unsecured credit extended to customer. Now a days banks are extra cautious while issuing a credit card. A credit card is issued only after due diligence. Every credit card has different credit limit depending on risk profile of the customer. Credit card limit is decided based on income, current loan portfolio, expense pattern and overall risk assessment of customer by the bank. Banks pull out CIBIL report of a customer to check most of these point. If CIBIL sore is less than 750 or there is a default on payment in past then Credit Card application is not be approved. Basically CIBIL score is a credit report card of a customer i.e. how he manages his personal finance and credit discipline followed by the customer.
Credit Card Limit and CIBIL Score
When the credit card is issued, banks play safe and keep Credit Card Limit on lower side. Based on the usage of customer and payment history, banks keep revising Credit Card Limit at regular intervals normally 12-18 months. At macro level, higher credit limit shows that bank has high confidence on customer that he/she will not default on credit card payment. Credit Card Limit is good pointer how your CIBIL score is moving. If bank offer to increase your credit limit then you should grab the opportunity. It also implies that you are following good credit practices.
As a thumb rule, you should never use your credit card limit more than 30% of approved credit card limit. If current limit is not sufficient then you can always request bank to increase your credit card limit. It is not necessary that bank will oblige. As a back up plan, you may opt for 2nd credit card which will give slight cushion. Credit limit will not increase drastically until unless you are eligible for enhanced eligibility based on usage patter and credit history. An increase of 20%-30% is decent. It is always advisable not to keep more than 2 credit cards.
In normal scenario, financial advisors suggest not to increase credit card limit even if the bank offer to increase the same. Their main concern is that with increase in credit card limit, a customer will tend to spend more. I beg to differ on this point. My point is that Bank offer to increase Credit Card Limit only when they observe that customer is following good credit practices. It also imply that customer is using credit card responsibly and making all payments on time. As i mentioned that as and when bank offer to increase the credit then you should opt for it. At the time, increase in credit limit does not mean that you should stop following good credit practices. Obviously with increase in income level, credit card usage will increase. In order to maintain discipline you should never utilize more than 30% of available credit card limit.
As i highlighted that higher credit limit means high confidence of bank in your re-payment capability therefore high Credit Card Limit has positive impact on CIBIL Score. Normally Credit Card Limit is around 2.5 to 3 times of monthly gross salary. Assuming my monthly gross salary is 1 Lakh. My credit card limit should be between 2.5 lakh to 3 lakh. This cumulative limit is across credit cards in case i am carrying multiple credit cards. If i have 2 credit cards then my cumulative credit limit should be in this range. Credit Limit of more than 3 times monthly gross salary will have positive impact on your CIBIL Score.
High Credit Card Limit will reduce my future Loan Eligibility
This is the biggest misconception that increased credit limit will eat into your Loan eligibility. Credit Card limit is somewhat similar to overdraft facility extended to the customer i.e. facility is extended, customer is availing or not is different. Credit Limit should not be misunderstood as Loan or Mortgage. Reason being, till you utilize this limit it will not be considered as Loan or credit. Therefore it is advisable to utilize only 30% credit card limit at any given point of time. A parallel can be drawn between Credit Card Limit and Home Loan Eligibility. In case of Home Loan, assume based on my eligibility bank fix my Home Loan eligibility as 1 Cr. I only opt for a Home Loan of 40 lakh. In this case my loan/credit liability is restricted to Home Loan availed i.e. 40 lakhs not 1 Cr (Home Loan Eligibility). Similarly in case of a Credit card, if my credit limit is 3 lakh and i only utilize 75k then my credit/loan liability is 75k which will eat into my total loan eligibility.
Holding Period of a Credit Card
Some people have habit of churning credit card as and when they receive new credit card offer. It is not advisable to churn credit card because holding period of a credit card i.e. from how long the customer is using particular credit card also impact Credit Limit thus CIBIL Score. It require atleast couple of years time to understand the credit behavior of a customer. Normal credit cycle is of 1 year because credit usage vary from month to month. My credit card usage is high during the month of April as i pay all my annual insurance premiums during April. Similarly usage can be drastically low during September and February. In order to discount all these seasonal variations, credit cycle of atleast 2-3 years is considered to understand credit behavior. Besides credit cycle, longer holding period of credit card shows stable credit behavior of a customer. Holding Period directly impact CIBIL Score therefore if you are using same credit card from last 5 years then there is high probability of better CIBIL Score.
To summarize, Credit Card if used judiciously and intelligently can help to improve CIBIL Score in long run. Some people have misconception that since they don't use Credit Card therefore they should have high CIBIL Score. My answer is CIBIL score is a derivative of Credit history. If you don't have any credit history then how financial institutions will check your Credit history. Only a good credit history can help to build good CIBIL Score of more than 750 in long run. Credit Card is one of the easiest and convenient way to improve CIBIL Score & you should not miss this opportunity.
Hope you liked the post and remember that good CIBIL score is result of good credit practices. It cannot be improved overnight. Beware of agencies or companies which promise overnight improvement in CIBIL Score through fraudulent ways.
If you wish to avail my services to improve your CIBIL Score, Click Here to post your request.
Copyright © Nitin Bhatia. All Rights Reserved.