Should you file a Form 1040X amended return, or just wait and hope?
Thankfully, potential tax issues cannot haunt you forever. The statute of limitations provides you three years to claim a refund, and also gives the IRS three years to audit you and assess additional taxes. So in general, the IRS will not audit returns which are more than three years old, and the agency claims that it tries to perform most audits within two years of a filing. But it's important to note that this 3-year limit is not a bulletproof legal protection. If a "substantial error" (e.g. fraudulent return, or a finding that more than 25% of your actual income was omitted from a return) is identified, the IRS can audit returns up to 6 years old. Finally, the IRS has up to 10 years to collect any tax liabilities owed by you.
Reasons to file an amended tax return
Amended returns are used to correct any information that will alter how your taxes are calculated. However, the IRS says you don't need to file an amended return if you simply made mathematical errors or forgot to include required schedules or attachments. The agency will correct your math errors for you, and they will also send you a request for any missing paperwork.
Common reasons (things that might alter your calculations) for amending a return include:
Changing the number of dependents you claim
Changing your filing status (married, single, joint etc.)
Reporting income that was not included on your original return
Changing the exemptions or credits you claim (both types and amounts)
Correcting withholding figures for income you have reported
Changing the deductions you take
Tips for filing your Form 1040X properly
As stated above, a Form 1040X is essentially a replacement Form 1040. The 1040X contains your corrections for the same pieces of information you submitted with your original 1040. Keep the following in mind to ensure your Form 1040X is completed correctly to avoid trouble:
Choose the right year at the top of the form (the year of the return you are amending)
If the information prompting your amendment affects the tax calculations for more than one year, you need to file a separate Form 1040X for each year affected
When you complete and attach forms and schedules for your amended return, use the documents for the year you are amending, which may be different from the most current versions available
Be clear and concise when completing Part III, "Explanation of Changes" on your Form 1040X. This is where you give a description of the reasons you are amending your return, and which items you are changing. If you prefer, you can attach a separate statement explaining your changes instead of using the box in Form 1040X.
1040X Amended Income Tax Return
Printable Tax Form And Instructions 2016, 2015, 2014
Form 1040X is used to correct IRS Form 1040EZ, Form 1040A, and Form 1040. To obtain a credit or refund based upon your correction, Form 1040X generally must be filed within three years of the return due date, April 15 for example. See the Form 1040X instructions booklet for exceptions to this rule and more details on when and where to file.
Examples of when to use Form 1040X:
Missed a credit or deduction which reduces your tax due.
Found a shoe box full of receipts after you filed your return.
Correct an error on Form 1040, Form 1040A, or Form 1040EZ.
Change return amounts which were adjusted by the IRS.
Claim a carry back due to a loss or unused credit.
2016 1040X Form And 1040X Instructions
Click the federal IRS Form 1040X and 1040X instructions links below to download, view, print, edit, or save as a PDF file. These free PDF files are unaltered and are pulled directly from the publisher. Form 1040X is a multi-year form which can be used for income tax years 2016, 2015, and 2014.
Form 1040X and the 1040X instructions booklet are generally updated in December of each year (if updated the current year will display, prior year if not). Last year, many of the individual income tax forms were published late in December with instruction books following in early January due to last minute legislative changes.
More Tax Forms, Schedules, And Instructions
The printable 1040X tax form and instructions booklet links above are a quick reference for those looking to print the one federal IRS form. Even more printable federal IRS tax forms, supporting schedules, and instructions booklet are grouped by year on our pages below:
Please report any broken 1040X tax form and instructions booklet links using our contact us page found at the bottom of this page.
what 1040x form
IRS Form 1040X is used by United States Persons (citizens, residents, nonresident aliens earning income in the US) to amend personal income tax returns that have already been filed with the IRS (Internal Revenue Service).
More often than not this is done with the expectation of getting a refund for money paid incorrectly to the IRS previously, but may also be used to simply keep your income tax record correct and may result in you owing the IRS additional money.
Unlike most of the 1040 series of income tax returns, IRS Form 1040X can not be filed electronically at present, though this may change in the future. Instead, because the 1040X deserves additional scrutiny, it has to be filed on paper and should ideally be sent to the same processing center that you filed the original 1040 with, though you can also send it to another center as described in the instructions of IRS Form 1040X.
Since the filing of the 1040X has to be done manually and the IRS carefully reviews all 1040X submissions, you can expect the process to take several months, so you should take this into consideration when filing. Do not expect a quick return as 1040X amendments always take a while to process.
Once your IRS Form 1040X is received, the internal Revenue Service will carefully scrutinize both your original return as well as the amendments detailed on the 1040X. They will go back over the basis form, like your W-2 or 1098 and 1099 forms to make sure every thing adds up.
Further, they will review all the supporting documentation you include with your 1040X to ensure that it backs your contention. If the IRS is unsure or has questions, they will respond by sending you a letter asking for more information, a step that is likely to extend the duration of the process considerably.
If your IRS Form 1040X is filled out properly and everything matches up and looks good to the IRS investigator looking at your amendment, you can expect to receive your refund in about twelve weeks, though this can take longer.
Basically, the more complicated the amendment is, the longer it will take to review. Therefore it is very much in your best interest to check and double check your 1040X before submitting it and ensure that you also include all relevant documentation supporting your amendment. The easier you make it to confirm your contention the quicker you will get your refund.
what 1040x form
Tax time is stressful for most people. You need to gather all your receipts from the year, make sure you have your bank statements, and any other necessary documents. This alone can be a daunting task if you have not kept proper records during the year. Sometimes people do make mistakes when filling out their tax returns. It is very easy to miss a line, or make a mistake in adding or subtracting. When this happens, you need to fill out and file an amended return. Here are some tips to help you understand IRS 1040x and 1040x form.
There are two steps involved in filling out IRS 1040x and 1040x form. The first part of the process is to gather all of your previously used documents. You will also need to pick up the 1040 long form. You may have filed a different tax form the first time around, but in order to amend that return you must use the long form this time. You will also need the necessary 1040 schedules depending on your situation.
Amended tax returns have a better chance of being audited by the IRS. This is why it is very important to make sure you fill out the 1040x and 1040x form properly. Make sure you have the first tax return among the other documents you need. You should also have any W-2s from earned income in front of you. Take the time to check and recheck your math. This is very important. The figures that are entered on the new 1040 long form must match exactly the figures you enter on the 1040x form.
The 1040x form is used to summarize all of the information that you have entered on the 1040 long form. This is why it is extremely important that all the figures match, line for line, on both forms. The most important part of IRS 1040x and 1040x form is Part C. You will use this section of the form to explain to the IRS why you are filing an amended tax return. You should keep your explanations clear and concise. Do not use long, rambling sentences, they will not thank-you for it. Also, do not forget to write the year you are amending on the top of Part B. The 1040x form can be used for any year, so this step is an important one.
Before filing your 1040x and 1040x form be sure to check it twice. It cannot be stated enough that you need to check your entire math thoroughly. You do not want to make a mistake on the amended tax return or you are sure to be audited by the IRS. A tax audit is not something that anyone wants.
Oops — mistake on your tax return? Form 1040X to the rescue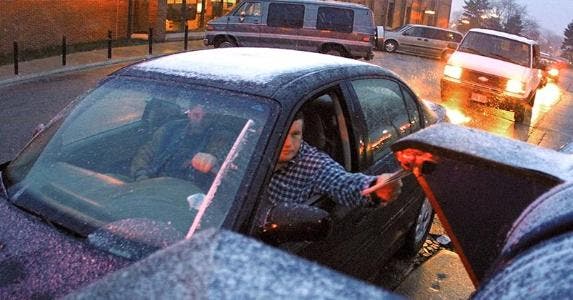 Tim Boyle/Newsmakers/Getty Images
Whether the mistake means you owe more tax or you're entitled to a bigger refund, the IRS provides second chances to get your tax return right.
For a tax form, the 1040X is pretty easy. Basically, the IRS wants to know what you originally reported, what your revised numbers are and why you are making the changes.
The form helps with these common corrections:
Adding or subtracting personal exemptions in case there's some confusion about whether you properly counted someone as a dependent.
Changing your filing status from single to head of household, such as in the case of a new divorcee with kids who could've gotten a larger standard deduction.
Changing from married-filing-separately to married-filing-jointly to get tax breaks you wouldn't otherwise get. But changing from joint to separate filing after a return's deadline has passed is not allowed.
File a separate Form 1040X for each year you are amending.
An amended return cannot be filed electronically; you must use snail mail.
Mail each form in a separate envelope.
Be sure to enter the year of the return you are amending at the top of the form.
Explain on the back of the form the specific changes and reasons for each.
Attach any forms or schedules affected by the change.
Federal 1040 changes could affect your state taxes. Your state tax office will have information on how to correct your state tax return.
If you made a simple addition or subtraction mistake, there's no need to amend the return. The IRS says its computers will detect the error, notify you and adjust your return automatically.
But if it's something bigger – say you overlooked a Form 1099 for $1,500 you got from a freelance house-painting job — and you catch and correct it first, it could save you from paying even more to the IRS.
The IRS may not penalize you for this honest mistake, but it sure will collect some interest on the proper amount you didn't pay on time in the first place. The sooner you correct the error, the less interest you'll pay.
Save on interest payments from your credit card by finding a low-interest credit card at Bankrate.
The IRS generally gives taxpayers three years after the original return's filing date to make changes with a Form 1040X. If you filed early, you get three years from the return's due date to correct any errors.
Your timetable on amending a return changes a bit, however, if you didn't pay all the tax you owed with your original filing.
If you filed and owed money, you have two years to amend the 1040 from the date that you finally paid your tax bill.
For example, let's say you filed your 1040 on April 15, 2015, and paid $400 of the $500 you owed. You paid the final $100 (plus penalties and interest) on Jan. 10, 2016. You have until Jan. 10, 2018, to amend the original filing instead of the usual three years (until April 15, 2018) you would have been given if you'd paid your taxes in full and on time.
If, however, the two-years-since-payment date arrives after the standard three-year time limit, the IRS says you can amend your return using the deadline that comes later. In the earlier example, let's say you finally paid your tax bill on June 10, 2016. That would give you until June 10, 2018, to amend the return, almost two months longer than the original three-year amending option.
Similarly, if you paid your taxes late, but not that late (say, in our example, on Aug. 10, 2015), and the three-year grace period from the original filing date provides you more revision time (which it would, since April 15, 2018, is later than Aug. 10, 2017), you can take it.
Would you like to use a credit card to make a payment to the U.S. Treasury? Find the best credit card for you at Bankrate.
Even if you regularly e-file, you'll have to send in a paper Form 1040X. The IRS is not yet equipped to handle this form electronically, though it will certainly accept your payment electronically. Be sure to pay attention to the mailing addresses in the form's instruction book. Amended returns don't always go to the same IRS service center that processes regular returns.
Keep in mind that it takes longer — from eight weeks up to 16 weeks — for the IRS to process an amended return. You can use the Where's my amended return application on the IRS website to track its status.
What tax bracket are you in? Bankrate's calculator can help you figure it out.