Wells Fargo Introduces Enhanced Identity Theft Protection
Expanded Product Includes Monthly Triple Credit Bureau Reports and Scores, Online Calculators, Credit Score Tracker and Credit Score Alerts
SAN FRANCISCO--( BUSINESS WIRE )--Wells Fargo (NYSE:WFC) today announced the availability of Enhanced Identity Theft Protection, which provides customers an easy way to monitor their credit and check for inaccuracies that may indicate identity theft. An expanded version of the current Identity Theft Protection service, the enhanced service includes monthly triple credit bureau reports and scores, online calculators, credit score tracker and credit score alerts and is available through Wells Fargo Insurance and provided by Trilegiant Corporation.
Wells Fargo expanded and enhanced the service in response to customer demand. "The original Identity Theft Protection provided customers a way to monitor their credit to help watch for signs of identity theft," said Melanie Donaghy, Internet Services Group Online Service Marketing Manager. "Customers told us they care about their credit score, so our enhanced service gives them more of an ongoing credit management tool. It fits right in with our overall focus on financial education. And they are speaking with their clicks—they began signing up for this service even before we began marketing it."
Customers' strong interest in protecting against identity theft is one example of a broader concern—managing credit and finances in a turbulent economy, said Robert Dudacek, Wells Fargo Insurance Direct Response Group Manager. "Customers are not only interested in getting their credit score but also about understanding it better and tracking how it changes over time," Dudacek said. "At Wells Fargo, we know a credit educated customer is a better banking customer. Most people are aware that a credit score can affect their ability to qualify for a big purchase, such as a home or car, but many don't know exactly how, or that it can affect the rate they pay. Others may not know that a credit score can affect not only purchases but insurance premiums. This new service, with credit score trackers and alerts, gives customers a clear picture of where they stand and how they can improve."
The enhanced identity theft service offers a variety of tools to help customers manage credit, including an online "Credit Score Simulator" that lets customers see how a credit score changes if they decide to reduce debt on mortgages or credit cards, refinance a loan, apply for a credit card or consolidate debt into a new account. Filling in the different situations and then running the scenario gives an online picture of how financial decisions are tied to credit scores.
The Enhanced Identity Theft Protection service is available now and customers can receive their credit report and score online in seconds. Learn more at wellsfargo.com/insurance.
About Wells Fargo Online, Mobile & Text Banking
Wells Fargo is a leading provider of online and mobile financial services for individual consumers, small and middle market businesses, and large corporations with a full range of banking, money movement, investing, asset management, and other financial and risk management products. Wells Fargo has been named the No. 1 Consumer Internet Bank in North America by Global Finance magazine (November 2009), earned an "A" grade from ABI Research for Wells Fargo Mobile (September 200&); ranked the No. 1 website out of 68 leading U.S. corporations' websites for technology innovation by the Brookings Institution (July 2009) and was awarded two Monarch Innovation Awards by Barlow Research for online services for small business, including Foreign Exchange Online and My Spending Report with Budget Watch (February 2009).
About Wells Fargo Insurance, Inc. Wells Fargo Insurance, a Minneapolis-based company, is a full-service independent insurance agency that has been helping customers protect what they value since 1903. Today, Wells Fargo Insurance is one of the largest insurance agencies affiliated with a bank in the United States and provides a wide range of protection solutions, including auto, home, life, renters, business property, business liability, commercial auto, workers' compensation, flood, and other insurance products, as well as identity theft and payment protection.
Wells Fargo Credit Card Online Login
Wells Fargo is an American international banking and financial company. They offer financial services for commercial, personal customers and small business. For personal customers, Wells Fargo offers a variety of credit cards, like Wells Fargo Wise Cash Visa, Rewards Visa, Platinum Visa and many others.
Wells Fargo Bank always has their customers in mind. Now there is no need to spend hours in a line at the bank with all the features provided in their Online Account. Any card members can enroll and view online statements, track activity or set alerts for card balance. To learn how to enroll, renew password or login, follow the steps in this simple guide.
Step 1– Open your preferred web browser and enter https://www.wellsfargo.com/credit-cards or click this link.
Step 2– At the top of the page, click the Sign On link.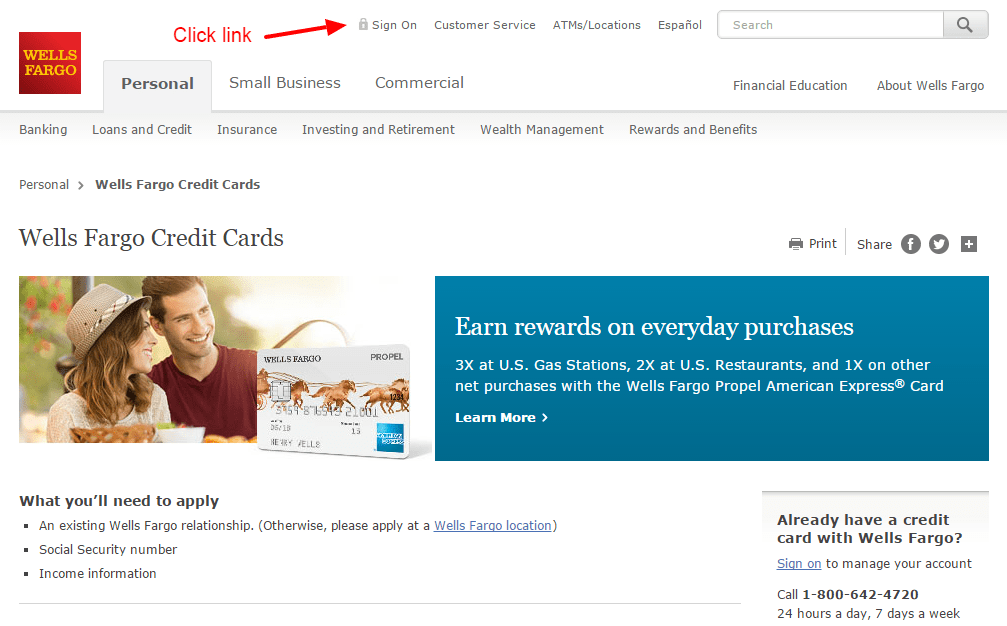 Step 3- Enter your username and password and click Sign On.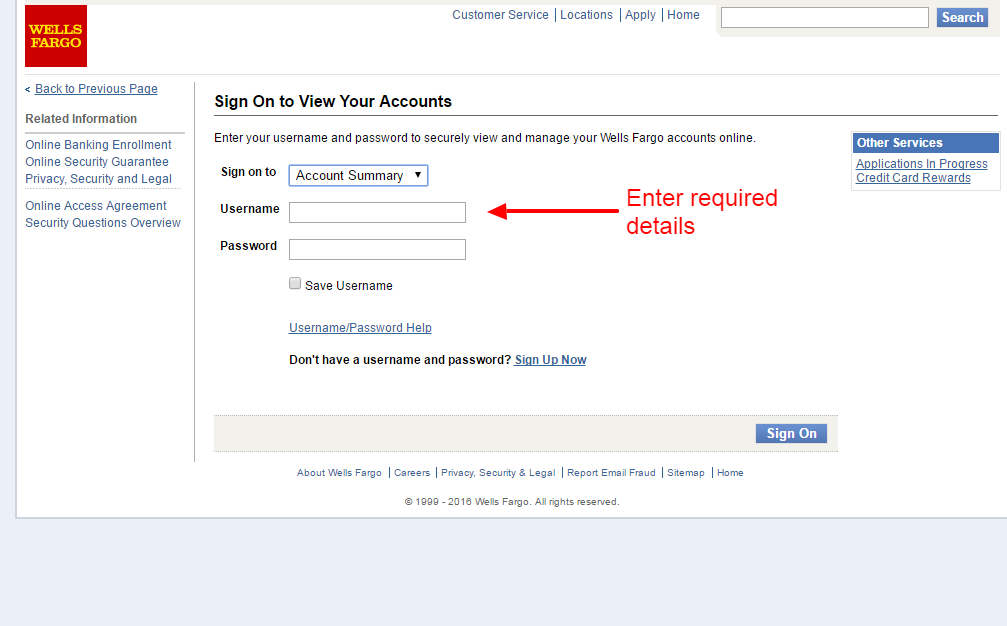 If you have entered the correct information, you will be directed to your online account dashboard.
To retrieve your User ID or password, start the process as you would to Sign On:
Step 1- In the Sign On page, click the link Username/Password Help.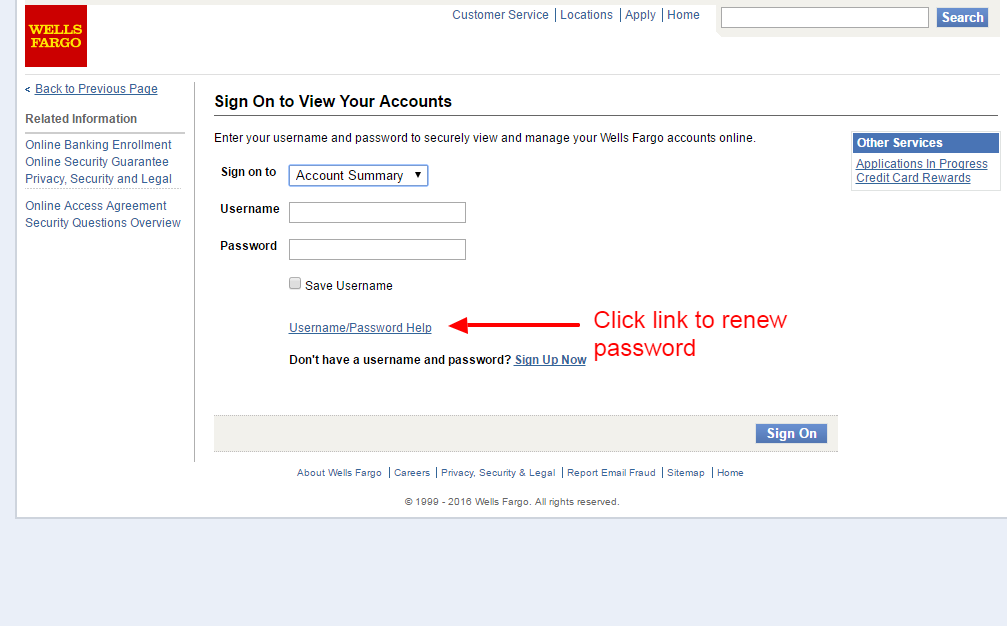 Step 2- Select action according to the information you wish to renew or retrieve. If you have forgotten your password, click Create New Password. If you wish to retrieve your username, click Find Username.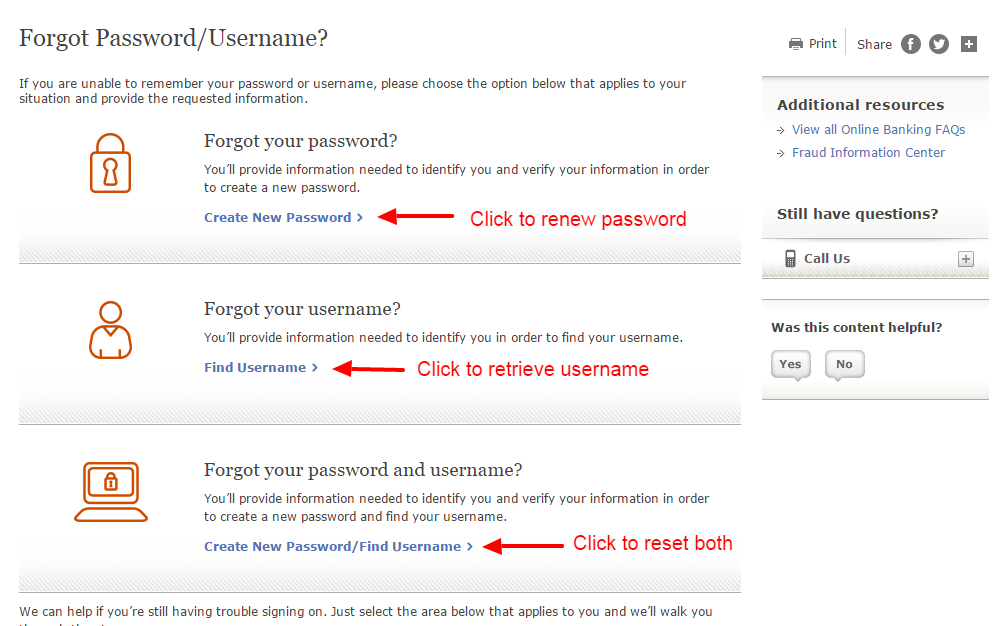 Step 3- Once you click on the link for forgotten password, enter your username or your SSN to verify your identity.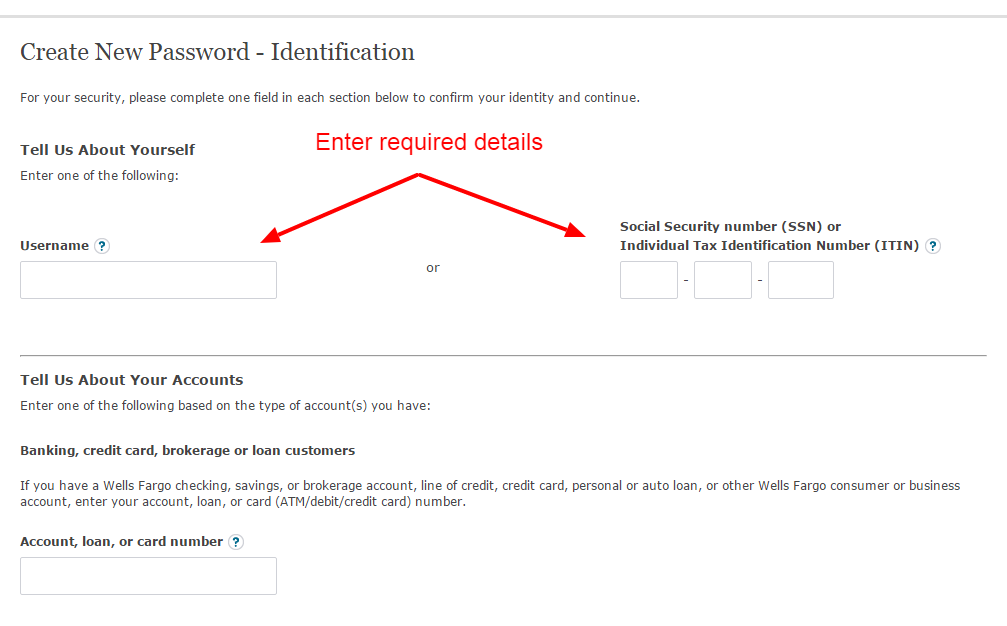 Follow any additional steps required by website to verify your information until you are allowed to renew your password or receive an email stating your username.
If you are already a card member and wish to enroll, start as you would the Sign On process:

Activate Your Wells Fargo Credit Card Online
Nowadays almost everyone owns a credit card or more than one. Credit Card makes money transaction quicker and securer. With a credit card, you can make purchases at merchants accepting that card so you do not have to take much cash with you. But remember you have to activate your credit card before using it.
Activate Your Wells Fargo Credit Card Instructions
With a Wells Fargo Credit Card, you will be able to take control your money and keep track of spending easily and conveniently, because Wells Fargo has multiple layers of protection which gives you extra peace of mind.
You need to visit the Wells Fargo credit card activate webpage www.wellsfargo.com/activate.
Next you need to signing on by entering your username and password which is also your online banking account, so if you do not have a username and password, you have to sign up.
To sign up, you need to enter your social security number, Account or ATM Card Number, email address and re-enter email address
Then you need to finish the verification process by filling out all the information.
As an American multinational banking and financial services holding company, Wells Fargo operates its business around the world. Wells Fargo has three major business segments which are Community Banking, Wealth, Brokerage and Retirement and Wholesale Banking. The present Wells Fargo is the result of merger between Wells Fargo and Norwest Corporation.
wells fargo credit score tracker?
Sorry, we don't have an aswer for this question yet.
Please vote if the answer you were given helped you or not, thats the best way to improve our algorithm. You can also submit an answer or search documents about how do you transfer songs from our ipod to my son s new mp3 player.
wells fargo credit score tracker? community answers
Okela gives you an straight answer for any question you may have. Implementing artificial intelligence you will most likely get what you were looking for. Now featuring documents to help your research! Don't forget to share!
This is a modal with costom transitions. You can choose from 'zoom-out' 'move-horizontal' & 'newspaper-effect'.
Below are some are some other home page variants that you can use -
Wells Fargo Credit Card Status- Track Well Fargo Bank Application Status
Wells Fargo Credit Card Status /Track Well Fargo Bank Application Status / Apply Online for Wells Fargo Credit Card / Track Credit Card Status Online @ www.wellsfargo.com
Wells Fargo Credit Card Status
Wells Fargo Headquarter in San Francisco, California is an American international banking and financial services holding company. As per latest news, Ot ranked 7th on the Forbes Magazine Global 2000 list of largest public companies in the world and ranked 27th on the Fortune 500 list of largest companies in the United States.Wells Fargo provide various banking products and financial services for corporate and retail customers. It also issued a wide range of credit cards to its customers in order to save money and time. in this article we are providing information regarding Track Well Fargo Bank Application Status Online.
Types of Wells Fargo Credit Cards
Whether you want to earn Wells Fargo rewards or start building your credit history Wells Fargo has a wide selection of credit cards. Some are listed below.
Featured Cards
Cash Back Credit Cards
Rewards Credit Cards
Build or Rebuild Credit Card
How to Apply Online for Wells Fargo Credit Card
Applying for Wells Fargo Credit Card is a simple process. The customers who need Wells Fargo Credit Card, It is necessary to apply for the same through online. After submission of application form you will be able to check status of your credit card application form. Here we are providing some useful instruction regarding Apply Online for Wells Fargo Credit Card.
First of all Go to the official website at- www.wellsfargo.com
After that Click on Personal > Loans & Credit > Credit Cards
Choose your type of credit card and click on Apply Now.
Enter appropriate information in application form.
Submit Application Form properly.
What you will need to apply
An existing Wells Fargo relationship.
Social Security number
Income information
Once you have successfully submitted your application form, Credit card will be provided within 3 weeks or may vary as per your location.
How to Check Wells Fargo Credit Card Status
The customer who have successfully submitted their application form for Credit card. However, if you still haven't heard back from the officials, it might be time to take things into your own hands. It's simple process, you can check status of your application form through the official website.Here we are providing some useful instruction to track status of credit card.
First of all the customer need to visit at the official website: www.wellsfargo.com
After that login through user name and password.
Click on Track Credit Card Application Status.
Enter the below mentioned details.
Last Name
Date of Birth
Social Security Number
Access phrase sent via email.
After submitting all details, you application status will be displayed on your screen.If you have any query, you can share with us through comment section. After that we will assist you and provide appropriate information regarding your query. Thanks!
For more information details you can visit at the official website of Wells Fargo & Company.