Online Credit Card Payment Processing Provider
Accept all major credit and debit cards!
Accept card payments from customers anywhere in the world. Reach two billion credit/debit card holders, each and every one of them is your potential customer.
Automate your customers' payments for memberships, subscriptions, trials. Reduce repetitive hassle, retain your customers, increase your monthly income.
Fully fledged payment gateway, acquiring services, attention to specific processing needs, commissions for referred merchants - we have everything.
Cardinity service is provided by UAB Click2Sell company, regulated by the central bank and card associations. With Cardinity you are not only getting the job done (accepting credit and debit cards), but also cutting your procedural costs and optimizing your payment cycles. Cardinity charges less per successful payment than most operators. And it functions as both a Payment Gateway and an Acquiring Bank, cutting the middle man out from your payment cycles. Costs reduced. Process simplified.
Do you develop software? Are You a sales agent? Maybe you implement special payment solutions and want Your customers to accept payments by credit and debit cards online?
We are ready to cooperate with You!
Accept all major credit and debit cards for a minimal cost for as low as 0.25 EUR + 1.7% (the friendliest price in the market that can decrease even further depending on your turnover).
Our card payment processing services go along with extra safety measures which guarantee the transparency and safety of all transactions.
Smooth integration between your e-commerce system and Cardinity payment service (a clear guide on integration procedures is provided).
Every business is unique. With this in mind Cardinity is ready to customize our credit card payment processing tool to your particular needs.
Cardinity is compatible with all leading e-commerce and CMS systems.
Professional consulting and troubleshooting on all online payment related issues.
For EU/EEA customers.
Probably the cheapest payment processor in Europe.
Sign up now and accept VISA, VISA Electron, Mastercard, Maestro card payments in your website within a few days!
Cardinity provides easy-to-plug payment modules for many popular e-commerce and shopping cart solutions. You will only need to download a module, install it by following our simple instructions and your store will be 100% ready to accept card payments globally. If your website is not based on a popular e-commerce platform, we offer PHP and JAVA libraries to speed up and simplify the integration of your e-shop to Cardinity payment processing network. Long integration development is non-existant here.
Sunrise Valley Science and Technology Park
Sauletekio Ave. 15,
UAB Click2Sell is a licensed payment institution regulated by the Central Bank of the Republic of Lithuania (License) and active in the European Union.
Click2Sell is registered on VISA Europe and MasterCard International associations to provide e-commerce credit card processing services for online merchants in the European Union.
Accept magnetic stripe and chip* credit and debit cards anytime, anywhere.
Transform your mobile device into an easy-to-use and highly secure point-of-sale. Encrypt sensitive data at the point of swipe, identify counterfeit cards before authorization, and stop fraud in its tracks.
Accept credit and debit cards on the spot using your Apple or Android mobile device or your PC. Connect the card reader, open the app, swipe/dip a card and send the receipt. You've just made a sale and the funds are on their way to your bank account.
Counterfeit credit and debit cards are on the rise and you shouldn't have to pay for it. QwickPAY can identify fake cards and give you the ability to stop fraud at the point of swipe, before the sale is processed. And your customer's sensitive card data is always encrypted at the point of swipe, so it's never in the clear.
All your data is safely stored in the cloud, where you can easily view and print your sales reports, transaction data, and saved receipts.
*QwickPAY is in the process of being EMV Level 3 certified with the major POS processors. Until certifications are complete, chip cards can be read by MagTek's EMV-ready devices but will be treated as Manual Entry transactions. When a processor completes an EMV certification for QwickPAY, the transactions for that processor will then be treated as card present EMV transactions.
Turn Your Smartphone Into Point of Sale
eCommerce & Prepaid Processing Platform
The Fastest and Secure Way To Accept Payments Online
The one stop shop innovative payment platform with highest security
Get internet merchant account and start to accept credit card on your online store through our secure payment gateway.
Turn your computer into a Point of Sales.
Virtual Terminal is the ideal solution to accept credit cards by telephone, fax, mail order or face to face.
Recurring payments are an automatic Credit Card Billing, this feature lets merchant to bill a customer's credit card a fixed amount on a regular basis for recurring services, such as subscriptions, membership fees or insurance premiums.
Accept Cards & Alternative Payments Simple and Secure
Payment gateway and processing services for online business
You are always able to shop in store retailers using Chip & PIN for more secure purchase, in addition to online shopping from the biggest online stores worldwide.
Card to Card Transfer enables you to transfer funds online to friends and family members quick, easy and convenient.
Use your Visa prepaid card at millions of ATM's worldwide anywhere Visa is accepted.
Your Right Choice to Manage Your Money
The reloadable Visa Prepaid Card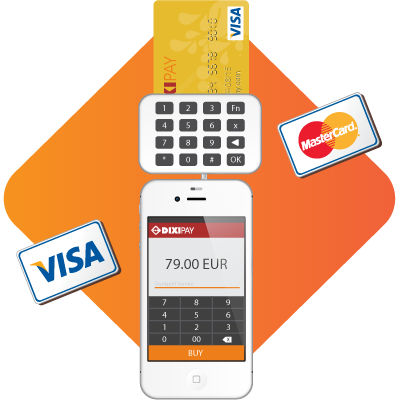 The most secure mobile payment solution. Your customers will be able to pay for goods and services on the go with the highest level of security using their Chip & PIN credit cards issued by international payment systems Visa / MasterCard Worldwide.
The Ideal solution for small and medium sized business to accept payment by credit cards through smartphone.
Turn Your Smartphone Into Secure Point of Sale
Accept credit cards on the go
DIXIPAY LTD® is an EU Payment Institution authorised and regulated by the UK Financial Conduct Authority (FCA) under the Payment Service Regulations 2009 for the provision of payment services. Firm reference number 662002
DIXIPAY LTD is registered as a Money Services Business (MSB) with HM Revenue and Customs (HMRC) under the Money Laundering Regulations. Registration number 12804169
DIXIPAY LTD is registered as a data controller with the Information Commissioner's Office under the UK Data Protection Act. Registration number ZA068696
DIXIPAY® and the DIXIPAY Brand Marks are registered trademarks of DIXIPAY LTD. Visa® and VISA Brand Marks are registered trademarks of Visa International Service Association. MasterCard® and the MasterCard Brand Marks are registered trademarks of MasterCard International Incorporated.
The DIXIPAY Prepaid Visa Card is issued on behalf of DIXIPAY LTD® by Contis Financial Services Ltd which is authorised by the Financial Conduct Authority (FCA) under the Electronic Money Regulations 2011 (registered number 900025) as an e-money issuer
The DIXIPAY Prepaid Visa Card is an electronic money product and although it is a product regulated by the Financial Conduct Authority (FCA), it is not covered by the Financial Services Compensation Scheme. No other compensation scheme exists to cover losses claimed in connection with the Prepaid Card. We ensure that any funds received by you are held in a segregated account so that should we become insolvent your funds will be protected against claims made by creditors.
walmart.com/creditcard payment
MoneyPolo оставляет за собой право запросить дополнительную проверку Вашего счёта: видео-верификацию, источник денежных средств, выписки по банковским счетам, налоговые декларации. Указанный перечень не является исчерпывающим.
MoneyPolo серьезно относится к вопросам безопасности и защиты личной информации клиентов. Время от времени мы можем запросить дополнительную информацию, которая поможет обезопасить ваш счёт в соответствии с политикой AML и CFT.
Виртуальная карта MoneyPolo Visa
Интернет-покупки стали безопаснее
Идельна для покупок на сомнительных сайтах, online играх и казино

* За пополнение карты комиссия не взимается, стоимость пополнения счета MoneyPolo вы найдете: Сколько стоит пополнение счета?