sofi home loans
SoFi offers unsecured loans in amounts from $5,000 to $100,000. Suggested uses for a personal loan from SoFi range from paying off credit card debt or consolidating high-interest loans to paying for your wedding or making home improvements. The loan must be used for personal, family or household purposes and cannot be used to cover educational expenses — although it's worth noting that SoFi does also offer student and parent loans for that purpose.
SoFi Personal Loans - Click to enlarge
Rates for loans from SoFi vary depending on whether you choose a fixed rate or a variable rate loan. Using AutoPay, fixed rate loan APRs range from 5.49% to 14.24%, while variable rate loan APRs range from 5.17% to 11.32%. Without using AutoPay, fixed rate loan APRs range from 5.74% to 14.49% and variable rate loan APRs range from 5.42% to 11.57%. Since the latter rates are variable, there's a chance that the maximum rate could change during the life of your loan, but SoFi caps all of its variable APRs at 11.57%.
In order to qualify for a personal loan from SoFi, you must be at least 18 years old and either a U.S. citizen or permanent resident. SoFi can make loans to people in 47 U.S. states as well as D.C., but those living in Mississippi or Nevada are not eligible at this time. Additionally, applicants must be employed or have an existing job offer with a start date within 90 days of their application plus a strong monthly cash flow.
The online application process is quick and simple. After creating an account with SoFi, you can begin your application by providing some personal information — such as your name, birth date, address, college education history and employment data. If you are qualified, SoFi will present some possible rates and terms. After choosing the one that is right for you, the service will ask for some additional information for verification purposes and perform a full credit inquiry.
SoFi Personal Loan Application - Click to enlarge
If you are approved for a loan, SoFi will send you a loan agreement to sign electronically. Once it is signed, the funds will be deposited into your bank account within a few business days.
Repayment periods for SoFi personal loans are in increments of 36, 60 or 84 months (or three, five or seven years). The service urges its borrowers to make payments online via ACH, and it even has an AutoPay feature that will get you a discount on your APR. You can also pay by automatic transfer from your bank as well as mailed checks. There are no added fees for making alternate types of payments, which is different from most personal loan services we've reviewed.
SoFi provides customer service via telephone and email, seven days per week. Phone representatives can be reached Monday through Thursday from 7 a.m. to 8 p.m. PT, Friday from 7 a.m. to 4 p.m. PT and Saturday and Sunday from 7 a.m. to 2 p.m. PT. Email support is offered during these hours as well, though you can send an email at any time. Live chat is also available when you are logged into your SoFi account. We found SoFi's representatives to be friendly, courteous and informative.
SoFi offers its borrowers a bit more than what we've seen from other personal loan services, especially when it comes to its career services feature and the ability to choose between fixed and variable rates. Its rates are fairly low, and the application process is streamlined and feels personal considering the information it takes into account. Combined with excellent customer service seven days per week, SoFi is a great option for someone looking for a personal loan with a community feel.
Ways to Save on Student Loans: SoFi Review
Most of the Money Wizards out there are among the younger crowd, which means a lot of you have an unfortunate something in common: student loans.
While I was lucky to avoid these demons thanks to extremely generous parents, my brother, who pursued higher education than my slacking self, graduated with exactly $100,000 in debt.
I consider him a bit of an expert on the subject, since he paid down over $50,000 of student loans in just two years.
So when he told me his only regret was not saving money by refinancing through SoFi, I took notice.
If you've been watching TV, chances are you've seen commercials for SoFi, the student loan refinancing service. SoFi is making some pretty bold claims, the most eye popping being that the average user saves $17,208 by refinancing their student loans through the company.
Now, just because something is on TV doesn't make it legit (Applying Head On Directly to the Forehead, anyone?) so I thought I'd dive into whether you can really save money on your student loans with this website, and whether or not you even want to.
If you're busy and/or don't care about the details, I'll save you some time: SoFi is in fact legit, and if you're feelin' the Bern of student loans, don't look for a politician to save you – you can in fact save thousands by refinancing those student loans to a lower rate.
Plus, you'll get $100 free by registering through my referral link.
For the curious among us, read on for details.
SoFi, short for Social Finance, is changing the game of student loans by offering refinancing and consolidation of both federal and private student loans. Now SoFi isn't the first company to offer refinancing, but they are revolutionary in their remarkably low interest rates.
Fixed rates as low as 3.50%
Variable rates as low as 2.23%
Refinancing options include 5, 7, 10, 15, and 20 year terms. The shorter the term, the lower the interest rates.
As someone who works in banking, SoFi isn't balking when they claim to have dirt cheap interest rates. And those rates certainly mop the floor with the standard 6.8% federal rates for my generation.
An interest rate deduction that big is HUGE for your finances.
Imagine the hypothetical recent grad with $50,000 in loans at the government unsubsidized rate of 6.8%. By refinancing from 6.8 to 3.5 percent, he can reduce his payments by almost $1,000 every year!
So, how are SoFi's interest rates so low?
SoFi sells the loans to private investors, who may be willing to take on lower rates than the federal government or private provider that is currently funding your loan. They also have relatively strict underwriting standards, which reduces some of the risk and allows them to operate on tighter margins.
This makes sense, and is common practice in the lending industry, but predictably, makes too much sense for the federal government.
Someone with a good job, strong cash flow, or strong credit history does not pay the same interest rate for a home loan or business loan as someone who does not, so why should an unemployed interpretive dance major pay the same student loan interest rate as a Stanford MBA ready to go back to work making well over six figures?*
*SoFi founder Mike Cagney admits he was inspired to start the company after speaking with the Stanford financial-aid office, who admitted nobody from the business school had defaulted on a single student loan in 30 years.
The short answer is no, moving your loan over to SoFi is free.
A lot of banks make up for cheap interest rates with high fees. SoFi is not one of them. Refinancing with SoFi has NO origination fees, meaning they do not charge you to apply or refinance your loans.
I often see another tricky move in the banking world, and it's called the "prepayment penalty." Bankers can include these in your loan agreement, and they are basically terms on how long you have to keep your loan.
Prepayment penalties contractually forbid you from freeing yourself from debt as quickly as possible. In the world of Money Wizards, these things might as well be Voldemort.
Loans refinanced through SoFi carry NO prepayment penalties.
No origination fees and no prepayment penalties is epic.
Although SoFi is pretty revolutionary in that they're a banking business that actually does seem to care about their customers, they are still a financial institution making money off the spread imbedded in your loan.
In other words, SoFi might pay its private investors 3% each, while they loan money to you at 3.50%. That 0.50% spread is their profit.
You just said a bank that cares? Yeah right.
I had the same initial though. Hooray for us skeptics!
After digging around, I actually believe them. SoFi offers a ton of unheard of benefits for its borrowers, including:
Unemployment protection (SoFi will pause loan payments while they help you find a new job)
One on one career coaching
Resume workshops
Up to 6 months of loan deferment for starting entrepreneurs
Skydiving for singles (Hey, they like to have fun too!)
And a host of other benefits. From a business perspective, this makes sense. Lenders want you to pay them. To pay them, you need a job. To get a job, you need skills and connections.
This sounds scary, can I just check my interest rate without committing to anything?
Yep, you can check to see your interest rate and approval in less than 2 minutes, for free. And just looking at your options uses a "soft pull" on your credit, meaning checking your interest rate will not hurt your credit score.
You won't be obligated to take a loan just from applying either. Only once you accept the refinance and continue from there will things get official.
So these guys are legit, or is some website going to take my money and run?
Well for one, you're not actually paying SoFi anything to start, since they have no origination fees. Nothing comes out of your pocket until you make your first (and lower) interest payment.
But you can ease those fears, because SoFi is as legit as they come.
To date, they've funded over $12 billion in loans. That's approximately $760 million in savings for their 150,000 members.
No need to worry about Nigerian Princes either. SoFi has a full management team and board of well known billion-dollar hedge fund managers, private equity fund owners, venture capitalists, MIT engineers, and even the former co-CEO of Duetsche Bank.
There are a few generic eligibility requirements right off the top:
You must be at least the age of majority and fit to enter a contract
You must be a US citizen or permanent resident
You must be employed or have an employment offer to start within the next 90 days
You must have graduated from an accredited Title IV university or graduate program
Residents of Nevada are not eligible at this time
The minimum eligible student loan amount was recently lowered to $5,000.
Not a catch per say, but two things to keep in mind:
1) Federal Federal student loans do have some benefits, including income based repayment and loan forgiveness for public service employees. I am not a huge fan of either benefit since they principally kick the debt burden down the road, but in certain situations these benefits can be beneficial. Do know that you are signing away these federal benefits any time you refinance outside of the federal government.
2) That alluring near-zero variable interest rate. These extremely low variable interest rates are an incredible deal and for certain people a great choice, but do know what you are taking on.
Variable rate loans are tied to the economy's interest rates as a whole. Given that interest rates are near an all-time low right now, it is reasonable to assume that interest rates will eventually rise.
I am not a policy maker for The Fed, so I can't say (nor can anyone else) with certainty what interest rates will do in the immediate future. However, it is reasonable to assume they will rise at some point. Exactly when and how high is anyone's guess.
SoFi variable rate loans are capped at 8.95% for 5 to 10 year loans, and 9.95% for 20 year loans. Unless you have done careful analysis and are absolutely positive you can afford those rates, stick with the fixed rate product. You won't ever have to worry about your monthly payment rising, and the predictability of knowing your exact payment required makes for easier budgeting
SoFi is offering up a great product here. Wall Street Journal described them as the Uber of the banking world, and I see the correlation. They are upsetting an old, stale, status quo business model, and providing an incredible benefit to their customers in the process.
Because checking interest rates is completely free, doesn't impact your credit score, and puts you under no obligation to accept a loan, I highly recommend you at least explore what your options are.
Not only could this save you tens of thousands, but by refinancing through my referral link below, you'll get $100 free!
I did similar to your brother in failing to refinance right away. I didn't really know much about personal finance or student loans when I graduated (other than to pay it off quickly), and when I finally did learn about SoFi, I dragged my feet for a while.
But refinancing is super easy. Ended up cutting my rate down from a 6.8% and 7.9% rate down to 4.3%, which really helped me to pay down my debt faster.
If you're in a field where you definitely aren't going to get loan forgiveness, then I'd always recommend refinancing right away. Most folks in high earning professions, which is what SoFi is looking for, aren't going to be able to get loan forgiveness anyway.
My last bonus with refinancing with SoFi are the member meetups. SoFi holds quarterly meetups where they have free dinner and drinks at fancy restaurants in whichever city you're in. And you stay eligible to attend these even if you've already paid off your student loans.
Ms. FP and I always enjoy a free dinner at a fancy restaurant every 4 months at a place we'd never be able to afford. A nice little perk that most people don't know about.
The Money Wizard says
Very cool FP! Thanks for the inside scoop.
*kinda wishing I had student loans now just for those fancy dinners* haha!
I referred my buddy to this based on your posting, but when he called, SoFi told them they will only keep him at his current rate of 6% and extend his payment to 20-years (instead of 10) so his monthly payments are lower. They also said that he has a history of paying down his student debt more than the minimum, and they don't approve of that! Maybe they're not as great as you make them sound after all…
The Money Wizard says
SoFi makes no qualms about cherry picking high quality borrowers, so not everyone will qualify for the lower rates.
I haven't seen anything about accelerated interest payments being detrimental on an application, so that's a little strange. I've contacted a SoFi rep to clarify, and I'll let you know what they say.
I refinancied via SoFi last year after receiving information via mail and seeing the site referenced on the MMM blog. I refinanced just shy of $30K in graduate student loans at rates of 7% and 7.5%. Via SoFi I chose the fixed interest rate and now sit at 5.74%. I make the same monthly payment I was used to, but it is amazing to see how much further that money is going with a lower interest situation. Over the summer we poured extra money onto the loans from my husband's overtime and now I'm resting at $21K to pay off. That is $9K cleared in just 1 year!
SoFi was great to work with. I made a lengthy list of questions, called, and immediately had the help I needed. My only complaint is that my loans are now being serviced by MOHELA, the Missouri Higher Education Loan Authority. Their website is dated and tools are somewhat hard to find. A simple change to my monthly payment date set off a chain of events that led to my payment amount being dropped to a lower amount, thus stretching the loan life further. It took two phone calls and yet another form to correct this. The also have a very weird "WARNING" message that attacks you anytime you make an extra payment outside the normal parameters of the monthly setting. It seems almost like they are trying to trick or scare the consumer away from making extra payments.
I have heard from two friends that SoFi was not a better interest situation. These friends have less stable income flows and tend to carry credit card debt, so SoFi wouldn't lend to them favorably. I am hoping to see more groups like SoFi come to the marketplace to drive a little competition and perhaps open options to riskier borrowers.
I stumbled upon this WSJ article that other might enjoy: http://www.wsj.com/articles/online-lender-sofi-launches-hedge-fund-1457480960. It looks like big shifts in structure might be coming to this marketplace, so check out your options now with the interest rate check tool mentioned above.
The Money Wizard says
Thanks for the first hand info MontanaA! And great job killing those loans, keep it up!
I had looked into SoFi as well after seeing the great marketing about their low interest rates. The problem is that you have to have at least $30,000 in loans to qualify for their low rates; me having $29,750 in loans, just short of the threshold, was offered rates of 6-7.5% which is more than the rate I'm paying the government. Stinks.
SoFi Review: Social Lending For Student Loans, Mortgages, And Personal Loans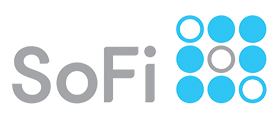 SoFi started in 2011 and is a lending company that recently surpassed $15B in funded loans as of 2017. They have 225,000+ customers, 240 employees and have raised $1.9 B in equity funding after raising $500M from Silver Lake in February 2017.
The company was founded by Mike Cagney, Dan Macklin, James Finnigan and Ian Brady, four students who met at the Stanford Graduate School of Business. They got together because they wanted to make lending and refinancing easier for borrowers using social lending.
The gist of their business is that lenders are willing to lend at a lower rate to people similar to themselves versus complete strangers. In other words, alumni should be more willing to lend to students and fellow grads of their alma matter because they share the same educational qualifications and should have a strong likelihood of repaying their loans.
SoFi is considered the largest and most successful fintech lender today. They are based right here in San Francisco, and I've met many of their employees. It's worth checking to see if you can get a lower student loan rate with SoFi. The cost is free.
Founders: Michael Cagney , Ian Brady , Daniel Macklin , James Finnigan
Headquarters: Building A, 1 Letterman Dr #4700, San Francisco, CA 94129
Description: Social Finance (SoFi) is a finance company that offers a range of lending and wealth management services. The company primarily caters to early-stage professionals and offers variable and fixed rate parent, personal, mortgage refinancing, and more.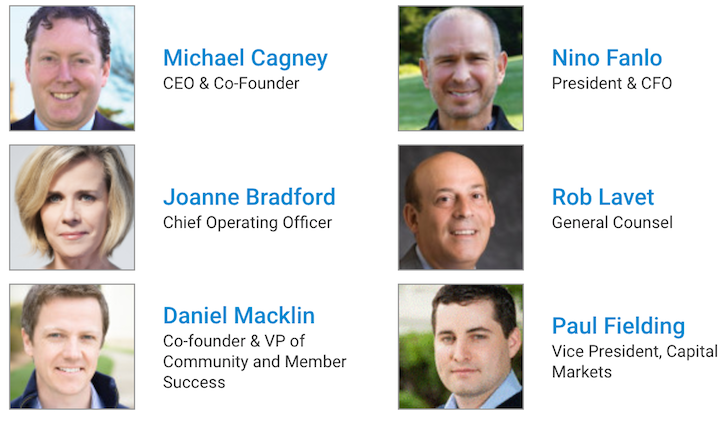 SoFi Funding History – $1.58 Billion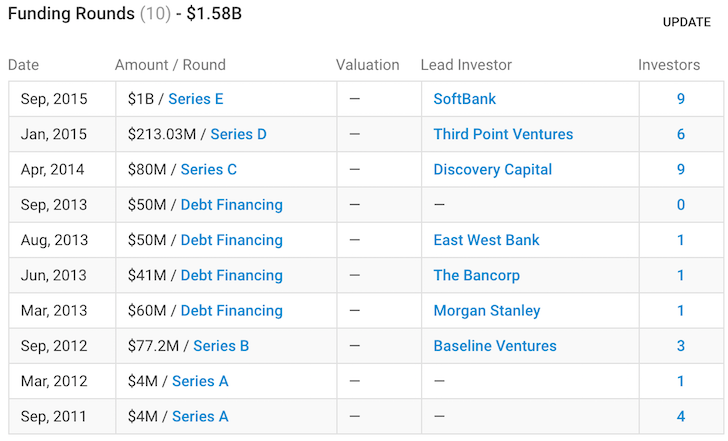 Feb, 2017, $500M from Silver Lake, bringing total funding to $1.9B.
What I found most intriguing about SoFi's student loan refinance program is that it has this great unemployment benefit clause where it will pause your debt repayment schedule if you lose your job. Interest will still accrue while you are looking for work, but at least you're saving some cash flow when you need it most. Now that's some pretty good unemployment insurance!
SoFi also offers other benefits that traditional lenders don't. For example, career advising, networking events (which I've attended), and entrepreneurial support to help borrowers achieve financial and professional success. To date, SoFi has helped about 70 SoFi members secure new jobs through its Job Search. Another 30 have gone through their Entrepreneur Program. Participants from SoFi's first two classes boast two acquisitions, one merger and several rounds of multi-million dollar funding.
What I really like about SoFi is that their underwriting process takes into account merit, education, and quality of employment history, in addition to the traditional income, credit score, and existing debt levels assessed by traditional banks. I firmly believe that if I went through SoFi's mortgage refinance process back in early 2015 when the 10-year yield was at 1.68%, my refi would have passed.
* Fixed rates as low as 3.375% variable rates as low as 2.345% with auto pay
* Zero origination/prepayment fees
* Offer terms from 5, 10, 15, 20 in both fixed and variable
* Can refinance both private and public student loans.
* Offers Unemployment Benefits
* SoFi also offers a 7 years repayment term for student loan refinancing
* Fixed interest rates start at 5.70% APR and variable rates start at 4.77% APR (with autopay)
* Can lend up to $100K
* No origination/prepayment fees
SoFi Loan Application Snapshots
Here are a few snapshots to show you what the application process looks like for borrowers on SoFi.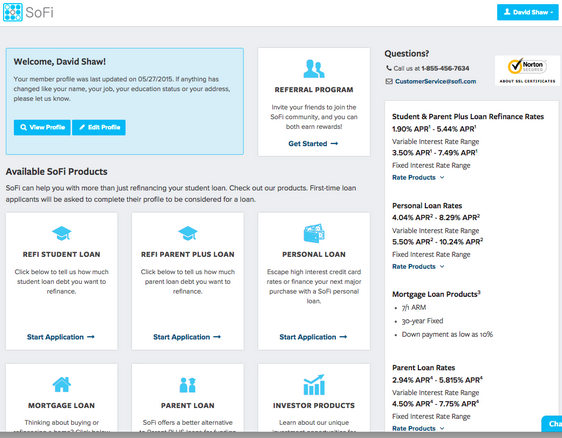 Step 1 of populating your Profile is basic personal information: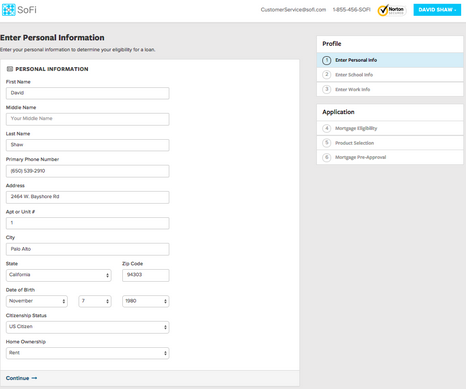 Step 2 is where you enter your education information including your graduation date: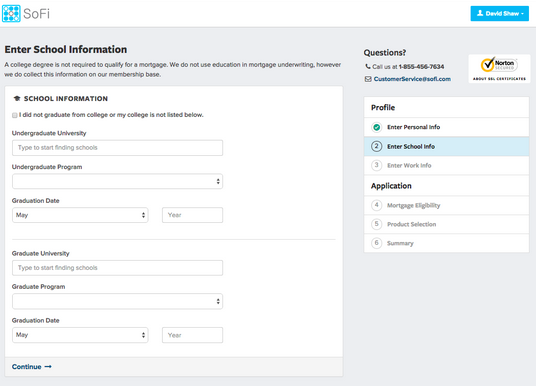 Next is typical employment information including your current employment status and salary:
And here's a snapshot of what the application form looks like for their mortgage products:
It's all very straightforward and doesn't take that long to complete.
Take Advantage Of SoFi For Lower Rates
Everybody who has a student loan or high interest personal loan should get a quote from SoFi to see if you can refinance your existing rates.
Click here to get lower rates on your student loans. It's all about leveraging technology and the massive amount of funding SoFi has garnered (over $1.5B) to take advantage of lower rates..
About the Author: Sam began investing his own money ever since he opened an online brokerage account in 1995. Sam loved investing so much that he decided to make a career out of investing by spending the next 13 years after college working at two of the leading financial service firms in the world. During this time, Sam received his MBA from UC Berkeley with a focus on finance and real estate. He also became Series 7 and Series 63 registered. In 2012, Sam was able to retire at the age of 34 largely due to his investments that now generate roughly $200,000 a year in passive income. He spends time playing tennis, hanging out with family, consulting for leading fintech companies and writing online to help others achieve financial freedom.
About Financial Samurai: FinancialSamurai.com was started in 2009 and is one of the most trusted personal finance sites today with over 1 million organic pageviews a month. Financial Samurai has been featured in top publications such as the LA Times, The Chicago Tribune, Bloomberg and The Wall Street Journal.





Author Bio: Sam started Financial Samurai in 2009 to help people achieve financial freedom sooner, rather than later. He spent 13 year working in investment banking, earned his MBA from UC Berkeley, and retired at age 34 in San Francisco. Everything Sam writes is based on first-hand experience because money is too important to be left up to pontification. His favorite free financial tool for tracking and managing his net worth is Personal Capital.
Subscribe To Private Newsletter
This is very interesting. I think it is just another example of a very fragmented, decentralized economy forming before our eyes. It's kind of exciting. I think these giant banks are simply getting too big to make decisions based on nothing but strict data constraints. They are too big to take advantage of common sense sometimes. I think we'll see this sort of thing pop up in more and more places as the bigger institutions fail to react to changing times.
Anonymous regular says
*To protect the innocent (and perhaps not so innocent), I have used a new name today.
I actually am very familiar with the firm. They started as a peer-to-peer lending group and morphed into the student loan refinancing firm they are now. They intend to move into mortgages, etc. They are not a bank and do not have to follow bank rules, so they can essentially segregate the market and give loans at preferential rates to the top tier of student refinancers – they started marketing to top business schools and are expanding to other schools at their discretion. They do look at your resume and are small enough that they are able to actually qualify each client based on their school, grades and work history, etc.
Banks will eventually probably create ventures that compete, but they cannot do it under current rules.
I attended a pitch session once – I was very impressed by the pitches of the clients – about 6 or so over lunch (clients were the loan refinancers aka new grads, mostly from top business schools). And the investors that were present were SoFi's own investors, and represent extremely well-known VC firms.
I think refinancing with SoFi, if you qualify for the best terms, is a no-brainer. SoFi reminds me a bit of Uber – they were able to find a way to go around established rules that govern a slightly different type of business (banks). If you can do it, do it!
Fascinating. I've heard of SoFi, but I had no idea about their core service offering of alumni offering student loans to fellow alumni. I can definitely see the appeal and trust involved. I totally agree that the refinance process with big banks is one big giant headache. It's good to hear there are much more user-friendly and out of the box options like SoFi for consumers to choose from now. I love fintech!
I've been hearing SoFi advertise on Pandora a lot. With their latest fund raising, they seem well equipped to grow and offer discount rates.
I do wonder whether the government and banks will become more competitive and offer lower rates as well. But, given it's the government and big organizations, they can't be as nimble.
If SoFi goes public, do their loans get more scrutinized though? Probably.
My hope is that fintech lenders like SoFi, and the whole fintech industry puts positive pressure on big banks to be more efficient, lower prices, and offer better products.
I was hopeful Zillow, Trulia, and Redfin would finally crush the 5% selling commission rate… but so far… 5+ years later, they haven't.
I went through SoFi for my student loans for medical school and the process was very straightforward (although it did require a lot of documents). I ended up going with DRB instead, only because they offered me a better rate. I did ask SoFi if they could match the DRB offer and unfortunately, they could not.
I actually just finished refinancing my high rate student loans last week. I ended up going with another fintech company and not SoFi, but the process was very easy with both. It's great that these companies provide an option for people who would otherwise get rejected from a big bank for some obscure reason.
Nice job refinancing! What interest rate were you able to get?
I was interested in SoFi for a mortgage because you can do a 10% down mortgage with no PMI. But to insure themselves, the interest is significantly higher on 10% loans with SoFi for people who aren't high income, in spite of credit worthiness. I understand the reasoning, especially since they don't have to follow bank rules yet, but a difference of 2% was not worth keeping more down payment money as a cushion with SoFi. I ended up using USAA instead and 20% down.
At the end of the day, it's all about the rate + your liquidity need. I most certainly would have gone with a 2% lower rate, that spread is too wide. If the spread was only 0.5% to maybe 1%, I may have gone with SoFi.
So long as you don't have to pay PMI, that is important. What an unnecessary expense!
Getting qualified candidates based on SoFi's underwriting system in for 10% mortgages w/ no PMI could be a game changer, especially for expensive housing markets.
SoFi reminds me a bit of P2P lending, going by your writeup, but going well beyond the personal unsecured loan. Helping people refinance their high yield student loan debt is something that can both do a lot of good and make the company a lot of money.
And those personal loan rates. Even better than Lending Club and Prosper. I wonder how their underwriting guidelines compare? One concept I really do like is the unemployment benefit. The idea that your repayment schedule stops if you lose your job? Jamie Dimon would probably have a heart attack if someone suggested that.
As for the big banks, it's very frustrating. They did a huge 180 after the Financial Collapse. In 2007, they would lend to anyone with a pulse. Today they would probably deny Warren Buffett a loan. I do so many applications for personal loans and Home Equities, and rarely does anything get approved.
ARB–Angry Retail Banker
Jamie and his new billion net worth. Paul Blankfein too. Dang the CEOs get paid so much.
The difference between the likes of SoFi and P2P lending is that SoFi is the lender, where's in P2P, you and I are the lender. We can't lend on the SoFi platform unless we invest in the company. Hence, SoFi is all for the retail borrower.
Nuclear Real Estate says
Any word on whether Sofi or other Fintech companies may be looking to expand into mortgages for investment properties? B2R financing is interesting, and good competition for commercial loans, but still really high rates compared to rates on conventional loans for investment properties.
There seems to be an opportunity for a company like Sofi to apply such a merit based approach to portfolio style lending beyond Fannie Mae's 10 loan limit. Evaluating an investors cash flow, performance history, capital reserves, etc as opposed to the strict Debt / Income ratios and such imposed on conventional loans.
This seems like it violates fair lending laws. I think regulators might look the other way for a little while, but I don't think the model is sustainable. Unlike say uber, where taxi laws are generally unpopular, things like fair lending laws are widely supported.
Feelfree to elaborate how SoFi is violating a lending law,and please share your law background. Thanks
Generally speaking, data points like education, college major or institution, or other subjective non-financial factors are not used in mortgage lending decisions as they create disparate impact (i.e. negative impact on a protected group). For example, two candidates with comparable income profiles apply for a mortgage. One has a degree and is accepted; one does not and is rejected. Fair lending laws are in place to prevent lenders from being able to make these decisions based on subjective factors because, for example, veterans (a protected group) disproportionately don't have degrees compared to their income bracket. Lending related to home mortgages is highly regulated, due to the fact that it's considered closely tied to equal housing opportunities. Regarding background, I'm a CPA and advise several major financial institutions on a variety of regulatory risk issues. I've been involved in multiple fair lending compliance audits.
This isn't true. Fair lending laws and Equal Housing prevent discrimination based on the following:
Age (provided the applicant has the capacity to contract)
The applicant's receipt of income derived from any public assistance program
The applicant's exercise, in good faith, of any right under the Consumer Credit Protection Act
And Fair Housing Act adds on ->
Familial status (that is, discrimination against households having children under the age of 18 living with a parent or legal custodian, pregnant women, or persons with legal custody of children under 18)
Sofi does not use any of these. Notably absent in the legal list above is education, major, institution, etc
I hear you about getting a mortgage/refi from a major bank. The last time I refinanced was in 2013, and I had to yell at the loan expediter to get them to start the underwriting process after waiting 90 days after the application was submitted.
I think you're missing a big point about the banks not approving loans, however. The reasons they give to us about not approving loans are their "rules" about employment length, etc., but that may not be the actual reason they're not approving the loan.
In my case, we were refinancing down to a lower percentage, with a significantly smaller principal amount and they were giving us the same story about all of the documentation they needed for "new regulations". This is true, the regulations are changing all the time and requiring stricter documentation. However, the decision on whether to fund the loan is still completely in the hands of the underwriter at the bank, not due to any regulatory control or to specific rules in place. The underwriter decides based on whether the loan will be profitable or not for the bank to offer (and subsequently re-sell the loan at a later point to another lender). If the bank determines that it's ultimately not worth it due to low interest or better refinancing terms, then they can give whatever reason they want due to the many "rules" to deny the loan.
My guess is that Chase determined they weren't going to make enough profit on your loan (maybe you have a history of paying down principal early?)… and that is probably the ultimate reason for rejection, regardless of what they told you.
I'm glad to see there is real competition in the lending space with offers of better terms and better products. It's been too long that banks were the only viable lending game in town. It's only through this type of competition will banks start to offer better terms and better deals.
I like what they are doing but a bit worried they will be forced to follow current rules in the system or are/will be just another front-end and will sell off mortgages such a traditional lender would do. Having enough capital to hold them all on the books may not be possible.
If they can do truly unique underwriting where a human is actually making a decision, that will be a game changer. I'm just not sure in this day and age it is possible. We almost need to take a step back to the times of our grandparents where you knew your banker and he could do things for you. I'm afraid this only exists today for the people who don't need to borrow in the first place.
I've spoken with a few people who were unable to get a better rate on a MBA loan refi.
Why do you think a lender selling off their loans to the secondary market is bad?
I think consumers still have several a years before fintech gets so over regulated that the benefits become too small to notice.
Maybe the big banks will just start acquiring to the fintech company's delight.
I should clarify, I think it's bad if they are just a front-end to the existing secondary market with a fintech marketing angle. (If Sofi loans start showing up in other issuers securitizations so sofi underwrites to their rules without thinking independently) Doing their own securitizations is a good thing and their student loan deals have had few if any defaults. I think the investors have been quite happy.
I'm just hoping they do as much as possible to separate themselves from the existing machine and the costs imposed by it. underwriting costs/ ratings agencies etc.
Selling off their loans is necessary as they can then make more loans, although I do think there's a solid argument that those making the loans should keep some skin in the game. Hopefully, they'll hold the equity/residuals internally which should be good for Sofi investors and make any investment in Sofi more interesting.
I don't see an answer on their website, so…
How do you get to be a lender rather than a borrower under their plan? Do you have to be an accredited investor or is it invitation only via the alumni association of the respective institutions?
I've been a borrower since 2013 and I honestly can't say enough about how wonderful SoFi is.
After graduating from Northwestern, I had loans on top of loans. At first, I just paid the minimum monthly balance and I thought I was making progress (remember I had just graduated from college and I was not the least bit financially savvy.) Then I got my first real job and my sister gave me a Suze Orman book as a present (or a hint) and that's when I started looking more closely at my loans and their interest rates.
Turns out, my largest loan was at 9.75% and that's why despite making hefty payments each month, I was barely moving the needle on my debt. I also had a co-signer on that loan (yes, it was my sister), which was dragging her credit score through the mud and limiting their financial opportunities. I looked into every alternative that I could think of and was ineligible or denied every time. By chance, I stumbled upon SoFi's website (remember this was 2013 and they were doing well but have since grown by leaps and bounds and are much more visible.)
A quick web form and a few uploaded screenshots later and I had applied for SoFi to refinance my beastly loans. The hardest part of their application process was getting loan payoff amounts from my other lenders. I qualified despite not having a massive income or a perfect credit score (remember, I was a recent college grad) because as FS noted, they look at you holistically.
When all was said and done, I cut my interest rate by more than half, removed a big burden on my sister, reduced my monthly payments (without lengthening the life of my loan), and found a company who seeks to establish long term relationships with members (aka borrowers) and want to help you through short term obstacles (by providing unemployment benefits, networking events, career advice, etc.)
FS is lucky to not have lingering student loans. I am very lucky I found SoFi.
Glad you were able to refi down from 9.75% and the experience was good. That is a high rate!
It is good they looked at you holistically, and are "betting" on you as you go through an upswing in your career and earnings power. It makes sense.
Thanks for sharing your story. What type of work are you doing now? I would never have been able to get into a school like NW 🙂
I refinanced my JD/MBA student loans with SoFi a year and a half ago while working abroad in Asia. It was a relatively easy process. I was happy to jump through a few hoops to take my interest rate down to 2.8%. (Prior to the refi, my PLUS loans carried rates as high as 8.5%!) TruStudent, SoFi's servicer at time of my refi, had a clunky website, but that was fixed when SoFi recently (and seamlessly) moved to MOHELA. I make additional principal payments each month and SoFi has correspondingly reduced my minimum monthly payment amount. I appreciate this because while I plan to pay my loan off early, I always like to be prepared for a sudden reduction in cash flow.
Dang, 8.5% to 2.8% is awesome! How did it get to 8.5% in the first place though? Seems like the PLUS system is kinda taking advantage of students.
How bout just pay off the mortgage? You said you have the cash. That would be a 0.0% interest rate.
Cash management and liquidity. If I had an extra million liquid or semi liquid, I would probably just pay it all off.
Everybody needs to be careful not to be too house rich, cash poor.
I think you'll find this VERY interesting. I've been trying to get a primary mortgage through SoFi, and they are refusing to count my income because — you guessed it — I'm a freelancer and have less than two years of tax returns for my business. My credit score is above 800 and my employment history goes back 10 years. I'm making more now than I was at any of my salaried jobs. I have immaculate accounting records, can show proof of retainers, big contracts, etc, but they won't consider my income for a loan.
I was hoping SoFi would be different than traditional banks, and maybe they are for loan products other than mortgages. But in my specific experience, they have been just as conservative as any other lender. It's been very disappointing.
Fortunately, we're buying a small property well within our means, so we can qualify for the house based on my partner's income. But it still feels insulting that my income cannot be considered for the purchase.
I started off with over $30,000 in student loan debt with an 8.5 interest rate. With roughly an upper 600s credit score. Sofi refinanced my loan to be 6.5% for ten years saving me around $15,000. I refinanced the same loan with them again to get a lower rate and now I am at 5.99% for 7 years which shaves off another $3,000. My credit scores wasn't any better when I applied for the second refinance but sofi looks at various factors in order to give you the best rates possible. Applying with SoFi was the best decision I ever made in 2015. Plus the customer service is awesome.
Sofi did no live up to the promises in the marketing material that I received. The ad stated that their rates were as low as 3.245%, 10 % down with no PMI. Subsequent to completing the application and submitting all of the requested material, I was informed that I would get a rate between 4.5 % and 5.5 %. I was shocked because my credit scores are in the low 800s and high 700s, which should qualify me for the lowest rate possibly. I was able to secure a mortgage with another company for rate of 3.625% with 10% down and no PMI. Maybe Sofi is good for student loans, personal loans or for people with bad credit, but I would suggest that you use someone else if you have good credit and are looking for a mortgage.
Just confirming a couple things-when refinancing student loans through SoFi, it still counts as student loan interest payments for tax purposes, correct? The only thing I've worried about is if the goverment views this as a personal loan instead of a student loan. Thanks!
Yes, still a student loan. Interest can be written off provided you make less than a certain amount of income.
Can a SoFi personal loan be used for real estate? Or is that non permissible? Does anyone know?
SoFi Review – A One-Stop Shop for Refinancing and Borrowing
Review of: SoFi
Reviewed by: Roger Wohlner
SoFi is a multi-purpose financial company that offers student loan refinancing, personal loans, mortgages, wealth management services, and more. It can help you save a ton of money on your student debt, buy a house and even get a new job. But if you have less than good credit, you might want to look elsewhere — SoFi requires a credit score of at least 660.
SoFi (short for Social Finance) has made a name for itself in the student loan refinancing space. But the company also offers personal loans, 10% down mortgages, wealth management (offered through SoFi Wealth, LLC), job search assistance and other services. Become a SoFi member and you'll also be invited to networking events such as local happy hours. (However, for the sake of this review we'll stay away from the sips and nibbles and focus on SoFi's loan offerings.)
Let's start with what SoFi isn't. It is not a traditional lender and it's certainly not a bank. SoFi raises money from investors to fund its operations and of course to loan to its customers.
The company is now over five years old and has more than 600 employees. It offers four products:
Student loan refinancing
Personal loans
Home Mortgages
Wealth Management
According to a Forbes interview with co-founder Dan Macklin, SoFi is working on developing some new products and trying to manage its growth.
Beyond just the financial products, SoFi is about building a community. It offers career coaching services for customers to help them with job-hunting skills and salary negotiations. It sponsors networking events for customers and has started an entrepreneurship program to help customers with student loan debt to become business owners.
SoFi offers two main services: student loan refinancing and personal loans. In this review, we're going to talk about both of these offerings. Click on the link to jump to the section you are more interested in:
SoFi is one of the few lenders to offer consolidation of both federal and private student loans. The site claims the average customer realizes savings in excess of $22,000. It's easy to sign up for SoFi student loan refinancing. The process is straightforward, and according to the company, the following three-step process can take a little as 15 minutes.
Customers complete online preapproval
Then they select the refinancing options, including rates and terms, that meet their needs.
Finally, all they have to do is electronically sign and upload the loan agreement.
SoFi also offers great rates, with variable rates ranging from 2.365% to 6.290% APR and fixed rates ranging from 3.375% to 6.740% with autopay.
In addition, SoFi's unemployment forbearance can be a lifesaver for at least a period of time if you ever lose your job.
SoFi is widely ranked at or near the top in the student loan refinance space. For the right borrower, it can offer significant cost savings. The other services it offers within its community are a value-added bonus.
But that's not all SoFi offers.
While perhaps best known for its student loan refinancing programs, SoFi offers personal loans as well. Its process and many of the features and benefits are similar in many ways to its student loan refinancing programs.
The site touts benefits that include the ability to borrow at fixed rates as low as 5.70% to 14.24% APR. These rates can be lower than credit card debt or other high-interest loans and result in significant savings for borrowers.
The process to apply is identical to the process for student loans, so expect it to be quick and painless, lasting as little as 15 minutes!
Current fixed rates range from 5.70% to 14.24% with autopay. The personal loans SoFi offers are unsecured, meaning you don't need to provide any collateral for the loan. And you can borrow a minimum of $5,0000 (the maximum is $100,000), with repayment time frames ranging from three to seven years.
In order to qualify for either SoFi student loan refinancing or personal loans, you must be a U.S. citizen or permanent resident of at least 18 years of age. Your financial history, employment status and your income versus your expenses will all be considered in evaluating your application and will be used to determine your interest rate.
As with any lender, not all applicants will qualify. Having an attractive financial profile will certainly help not only with qualifying but in getting the best rates and terms.
Competitive Rates — Low, competitive rates for their loans.
Easy Credit Requirements — No minimum-length credit history requirement, meaning these loans can be a good fit for borrowers with a limited credit history.
Easy Process — No maximum debt-to-income ratio to qualify.
Membership Privileges — Access to other benefits and features of the SoFi community.
Loan Consolidation — The ability to consolidate both federal and private student loans.
An opportunity to realize significant savings on the repayment of your student loans.
Strict Loan Qualifications — Not all applicants will qualify; SoFi's personal loans work best for those with good credit.
Cheaper Options — There may be cheaper options such as a 0% credit card offer or a home equity line if you own a home.
Not Available in Every State — Available in most but not all states.
College Graduate — You must be a college graduate to qualify for student loan refinancing, so if you didn't finish college but still have high-cost loans this is not an option for you.
Not All Schools Qualify — Borrowers must have graduated from an eligible Title IV university to qualify. While there are more than 2,000 eligible schools, not all secondary educational programs will qualify.
Short Loan Forbearance — The loan forbearance of 12 months for a job loss is lower than some other players in this space.
SoFi offers personal loans to borrowers with decent credit and a solid financial history. If you need a personal loan, SoFi is a place to check out. As with any financial transaction, be sure a personal loan is the best option for your situation.