yes credit car
Welcome to the "CAR YES" Network
We are committed to matching your transportation needs to an affordable vehicle - where the highest level of customer service is not an option!
Our credit decisions are based on your honesty and ability to pay.
Financing is available to meet all financing challenges and credit situations.
Visit one of our Network Members, meet their staff and see how you can get that "YES" at:
Poor Credit Car Loans: Yes, They Happen Every Day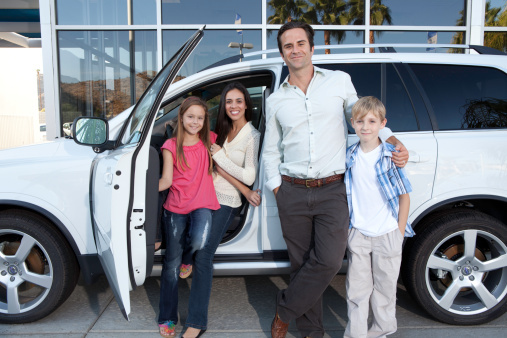 Your family needs a car, and can get one, regardless of your credit.
If you don't have great credit, you're probably used to hearing "no." It often feels like that whether you're still getting back on your feet after a lay-off or paying off medical bills, having some hard times means that nobody wants to loan you any money. And it's easy to assume the same is true of auto loans.
But it isn't. In fact, poor credit auto loans are made every single day to people getting their lives back together. Here's why poor credit auto loans happen every single day.
You're More Creditworthy Than You Think
It's easy to view a credit score as the final word on your creditworthiness, but in truth, there's far more to it than just three digits on a piece of paper. Your creditworthiness is increasingly being looked at in a wide variety of ways, from your pay stubs to your job history. Essentially, if you've got an income you can demonstrate and a need for a car, you can likely get a poor credit car loan.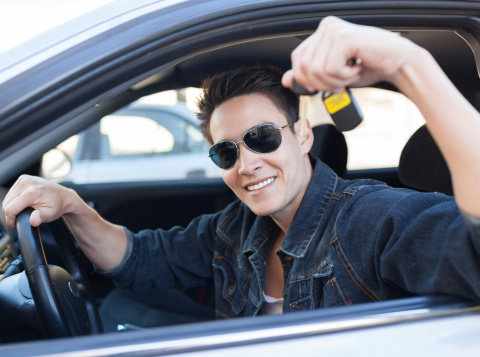 The key to a new car is in your grasp.
The obvious reason is fairly simple: For most of America, getting to work and taking the kids to school is a task that can only be done with a car. As a result, cars tend to be in the budget for almost all of us, and we also tend, as a society, to put making the car payment first.
That both makes car loans substantially less risky than other types of financial products, and it also means that credit standards are much different. Many places that wouldn't issue you a credit card or approve you for a mortgage will offer you a car loan.
Another strong factor is also quite simple; there are many cars out there, at many different prices. Sure, someone who doesn't have the greatest credit isn't going to get approved for a luxury vehicle. But a practical sedan? A minivan? A pick-up truck for your work requirements? That's a lot simpler to find, at a price many lenders are willing to meet. That variety means you'll be able to find a car at a price you can afford, no matter your credit.
There Are Many, Many More Lenders
Even just a few years ago, if you wanted to borrow to buy a car, your options were limited to the banks in your area and the dealership you were buying from. If they turned you down, then your options were limited.
The internet, however, has changed auto financing in some fundamental ways. Part of the reason that you had limited choices was there was no other way to reach other lenders outside your area. With the web, though, now you can reach out to lenders across the country.
Furthermore, as the demand for cars has increased and the need for lenders has increased, more and more alternative lenders have come onto the market. That in turn has created more demand and given more avenues for those with poor credit find a lender that can work with them.
So, if you need a car, take the time to apply for a loan. You might be surprised by how easy it is.
Need Car Finance? Have Bad Credit?
If you want to buy a used car but can't get credit, we may be able to help.
We are specialists in approving car finance for people with bad credit, no credit history, or a low credit score. With no awkward questions and an unbeatable acceptance rate we specialise in approving used car finance for people with bad credit who have been refused elsewhere. Simply complete the form opposite to apply.
All circumstances considered - CCJs , defaults, arrears, self employed, benefits, limited or no credit history - Whatever your situation we can help.
We always have a wide range of used cars available to drive away the same day from under £37 a week*
Showrooms Around the UK - Drive Away the Same Day
Apply today and arrange to visit one of our many car showrooms around the UK where you can choose from a wide selection of quality used cars, agree a finance package and drive away your new car the same day.
"I was very surprised that I was approved as I'd been turned down by all the other garages. I would recommend to anyone"
As well as our unbeatable acceptance rate, quality vehicles and unrivalled customer service, our customers appreciate us because every car comes with:
Bad Credit? No Credit History? We Could Still Say "Yes"
If you are permanently employed and have a properly run bank account, we can guarantee you a used car finance approval. We regularly approve people who can't get credit anywhere else and our customers often tell us how difficult they had found it getting an approval, even from companies who advertise that they can approve people with bad credit.
With a large stock of quality used cars available to drive away today, no awkward questions to answer, part exchange and nil deposit schemes, 5 day 'drive away' insurance and a long MOT on every car, you can't find a better deal on bad credit car finance in the UK.
Please complete the form below. This is all we need to proceed with your application:
We can help when others turn you down
Always a wide selection of cars to drive away the same day
Nationwide branch network
A long MOT on every car
Part exchange on your old car available
45.9% APR Representative
Unit 2 Alexandra Street, Hyde, Cheshire SK14 1DX
Welcome to Yes 4 Credit Oregon!
Is a poor credit score keeping you from owning your own vehicle? Yes 4 Credit Oregon is here to help! Don't let an avalanche of debt bury your chances of being approved for an auto loan. As experts in obtaining auto loans for persons with bad credit, we'll work with you to find the financing you need — and secure your second chance at a stable financial future.
Forget about bad credit car dealerships. Yes 4 Credit Oregon has extensive experience in obtaining basic approval for affordable auto financing that fits your personal needs. Regardless of whether you have little, bad or no credit at all, we will never turn down the chance to help those looking for auto loans with bad credit.
Leasing or buying a car is stressful enough. Dealing with poor credit can make a bad situation worse. But when you choose Yes 4 Credit Oregon, you can rest assured knowing you're working with the most trusted source for bad credit car loans. To get started, complete and submit our Online Application now or call 1-855-YES-4CDT(4238) today!