The best Xbox One controllers and accessories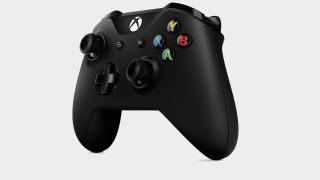 It's time to get a grip. Literally. You might think an Xbox One controller is just a pad, but you want the best options and accessories, right? Whether that's the classic controller (in a range of colours to suit your mood), or something with a bit more personality. Then there's the Elite - the pro experience with more levers and configurations that you could ever possibly need.
Here are the best deals on everything Xbox controller related in all the colours, with plenty accessories and more, so take a look and see what you fancy.
Official Xbox wireless controller, black
The classic option
Compatible with: Xbox One, Xbox One S and Windows 10 | Includes: Bluetooth technology for gaming on Windows 10 PCs and tablets: | Range: Up to twice the wireless range compared to previous Xbox One controllers (tested using the Xbox One S console)
The absolute classic. The basic, out of the box Xbox One controller is pretty much industry standard with precision analogue sticks, responsive triggers and. well buttons are buttons, really. You can use it wirelessly, or with a cable, and with a Play and Charge kit (below) never have to worry about batteries running out again.
And, if you don't like black, there's all these other colours to choose from.
Official Xbox wireless controller, white
Official Xbox wireless controller, red
Official Xbox wireless controller, blue
Xbox One wireless Minecraft controller (Creeper shown, Pig model also available)
Xbox Wireless controller Patrol Tech special edition
Compatible with: Xbox One, Xbox One S and Windows 10 | Includes: Bluetooth technology for gaming on Windows 10 PCs and tablets: | Range: Up to twice the wireless range compared to previous Xbox One controllers (tested using the Xbox One S console) | Features: diamond rubberized grip. Button mapping available via Xbox Accessories app
The Recon controller is a small but satisfying step up from the basic controller. It's got a streamlined design, with improved buttons and rubberised grips. Plus you can remap buttons using the separate Xbox Accessories app.
Xbox One Elite wireless controller
Includes: An Xbox elite wireless controller, a carrying case, a set of four paddles, a set of six thumb sticks, a set of 2 D-pads: faceted and standard, a USB cable, AA batteries and a quick set up guide and product manual | Compatibility: Xbox One, Xbox One S and Windows 10 via USB or a Xbox wireless adapter (sold separately) | Features: Swap thumb sticks and D-pads, hair trigger locks and interchangeable paddles and rubberised diamond grip
The Xbox Elite controller is for when you want to step up your game. It's not just a higher grade construction, it's uniquely customisable. There a four paddles that slot in under the main body that can be configured to perform any function, giving you more control options. Using an app you can both choose the paddle functions, and tweak and change sensitivities for other buttons and triggers - creating unique set ups you can switch between easily when you play different games. It even comes with a choice of D-pads and analogue sticks to suit whatever preferences you have.
If you're tired of swapping out batteries all the time then grab a Play and Charge kit. With a set of rechargeable batteries and a USB cable, you can top up whenever you need to and still lose the wire for when you want a little more freedom.
Xbox One controller wireless adapter for PC
Xbox Play Anywhere games run on your console and on your PC so you might want to pick up this little stick. It adds wireless functionality to your computer so you can play without wires.
Pick up a massive Xbox One S bundle with three games, all for $300 this week
Microsoft offers up one of its best Xbox One S bundles yet.
Article by Jamie Wallace, 08/31/2017 .
If you're one of the many people out there who is not quite swayed by the upcoming release of the 'most powerful console ever', Microsoft's Xbox One X, then you might just be in the right place and the right time to pick up a bargain on an Xbox One S instead.
Presumably to clear out a backlog of stock, Microsoft is offering up one of its best Xbox One S bundles yet. While stock lasts, you can pick up the Xbox One S 1TB Battlefield 1 limited edition (in that exclusive 'military green' colour scheme) along with a copy of the game itself, as well as two more titles of your choosing (from a selection, of course), all for $299.99.
This will be one of those 'get it while you can' type offers.
In that selection of games to choose from, you'll find you can pick two out of the following:
Madden 18
For Honor
Forza Horizon 3
Gears of War 4
Watch Dogs 2
Prey
Ghost Recon Wildlands
Injustice 2
Tekken 7
Dead Rising 4
Call of Duty Infinite Warfare
Halo Wars 2
Elder Scrolls Online Morrowind
LEGO City Undercover
Dirt 4
Final Fantasy XV
Elite Dangerous
Dark Souls 3
..and a whole bunch more.
Needless to say, it's a fairly generous range of games to pick from. That bundle also packs in a free month of EA Access for you to try out, which is a nice bonus.
This article may contain links to online retail stores. If you click on one and buy the product we may receive a small commission. For more information, go here.
Fingerhut Coupons & Promo Codes
Get Fingerhut deal alerts. 831 already do.
These Fingerhut promo codes have expired but may still work.
$25 Off Your First Order Of $100+
Free Zeki 7" 8GB Tablet w/ $200+ Order
Free Water Resistant Bluetooth Speaker w/ $100 Credit Card Order
Free Shipping On Power Tools And Hand Tools
Fingerhut Tips & Tricks:
If you find yourself shopping at Fingerhut frequently, consider getting a Fingerhut Credit Account or the Fingerhut FreshStart Installment Loan card, both issued by WebBank. These credit cards offer Fingerhut customers to take advantage of low monthly payment options, no annual fees and no over limit fees.
Take advantage of deeply discounted items by visiting the "Clearance9quot; section on the Fingerhut website. Have fun shopping for bargains on brand name clothing, electronics, toys and so much more.
Fingerhut Shipping / Return Policy:
Our team is confident that we have found the newest Fingerhut coupons. Feel free to check similar sites and share with us if we missed something.
xbox one s fingerhut

Give your Xbox® One Wireless controller with Bluetooth technology the jolt of color it deserves. Match the colors to your ColorWare custom console, choose your favorite colors, or select colors to match your room.
With such a versatile controller, you should be able to give it the custom color it deserves.
Xbox One S has 'additional processing power' over original model
Microsoft unveiled its new Xbox One S console yesterday, and now details are starting to surface about exactly what has changed inside. In an interview with Polygon, The Coalition studio head Rod Fergusson revealed that the new Xbox One S has additional raw GPU and CPU power compared to the original Xbox One console. As Gears of War 4 is a HDR game, The Coalition has been able to take advantage of that extra power to improve frame rates in particularly demanding parts of the game.
Microsoft has confirmed the "additional processing power" in a statement to The Verge. "We have the same SOC architecture as Xbox One today," explains a Microsoft spokesperson. "For games that want to take advantage of HDR, we gave developers access to a small amount of additional processing power." The additional processing power won't be significant, and it appears it's limited to HDR titles. Microsoft isn't detailing exactly what chipsets have changed inside the new Xbox One S, but it's reasonable to assume that the Xbox One AMD APU chip has been downsized somewhat for the smaller console, which will help with processing power and thermal thresholds.
Xbox Design Lab custom controllers
Command Line delivers daily updates from the near-future.