Finding a quality Insurance provider has never been easier!
Auto Direct - Insurance with 24h English support. Full auto services in Tokyo, Japan.
24 Hour English Call Line
Insuring your investment, yourself and your family from liability is essential in Japan . Unlike other countries, in the event of an accident, a percentage of the liability in Japan falls on both parties regardless of which party was actually at fault.
English Insurance / Breakdown Service
Auto Direct offers tailor made insurance coverage in English along with a 24 hour English Assisted Telephone Service in the event of an accident. An English roadside emergency breakdown service is also included in the insurance premiums.
Compulsory Automobile Liability Insurance (Jibaiseki hoken)
It is required to have Compulsory Automobile Liability Insurance to drive a car on public roads. ItЃfs called ЃgJibaiseki HokenЃh.This insurance is also called indemnity insurance. It will only pay to help the victim in the case of an accident and it only covers minimum liability.
Comprehensive Automobile Insurance (Jidosha hoken)
Since Compulsory Automobile Liability Insurance only covers minimum liability, it is strongly recommended to have Comprehensive Automobile Insurance, called ЃgJidosha hokenЃh, in case of an accident. When you are faced with a severe accident, having Comprehensive Automobile Insurance is necessary to protect you and the opponent of the accident.
For a free insurance quotation please fill in the inquiry form
For a more detailed explanation of the insurance company please check following web site:
Contact us at 03-5573-8776 or [email protected] or stop by our showroom for any question. Directions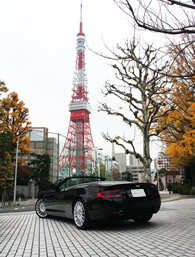 Auto Direct is a "ONE STOP SHOP" for all of your automotive requirements, providing all service in English.